Planning our wedding from over 2,500 miles away was tough. But I soon learned that there are plenty of ways to DIY and add personalized touches to a destination or distance wedding.
DISCLAIMER: This post contains ads and affiliate links. At no additional cost to you, we may receive a commission for purchases made through these links and ads.
Our wedding anniversary is right around the corner, so naturally, I've been reminiscing about that day and all the planning that led up to it. Our day turned out amazing, but one of the hardest things about wedding planning for me was doing so from the other side of the country. We were living on the east coast and our wedding was to take place in my hometown in Northern California. While I had an event coordinator, I didn't want to give up the process of designing our day. To stay involved and make the wedding feel like our own, I found several ways to DIY personal touches from a distance.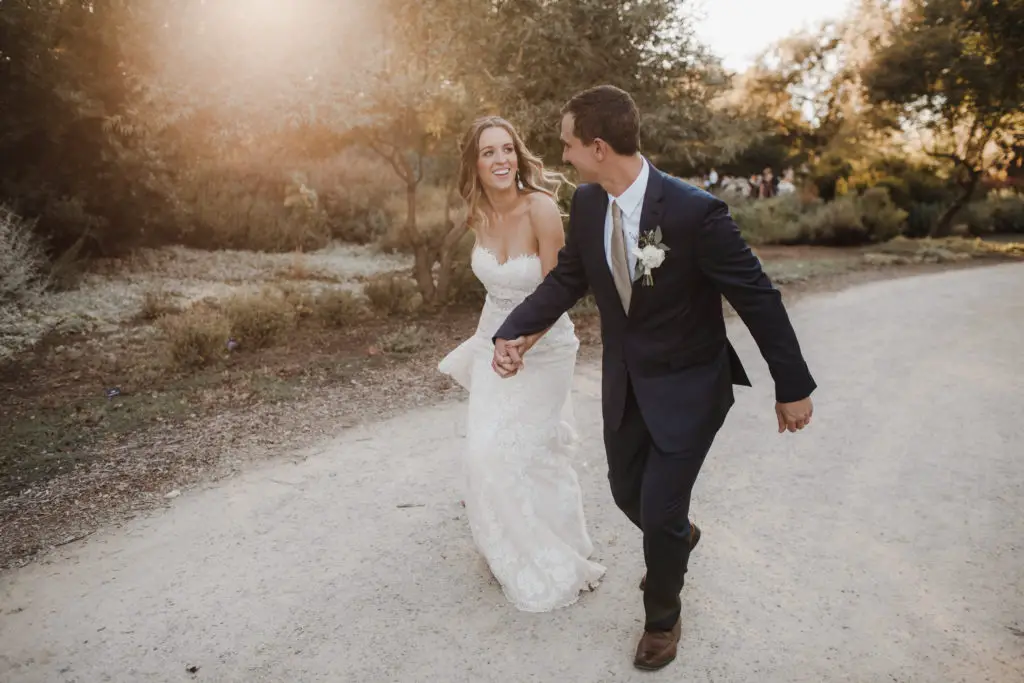 1. DIY Wedding Invitations
After failing to find an invitation set that we loved (at a price we could afford), I decided to design our own. It was a ton of work but I loved how they came out. Everything was designed in Microsoft Word (with the help of some fun fonts) and then professionally printed by Cards & Pockets. Personal touches included scenery photos from Northern California (where we got married) and vintage stamps from our home states.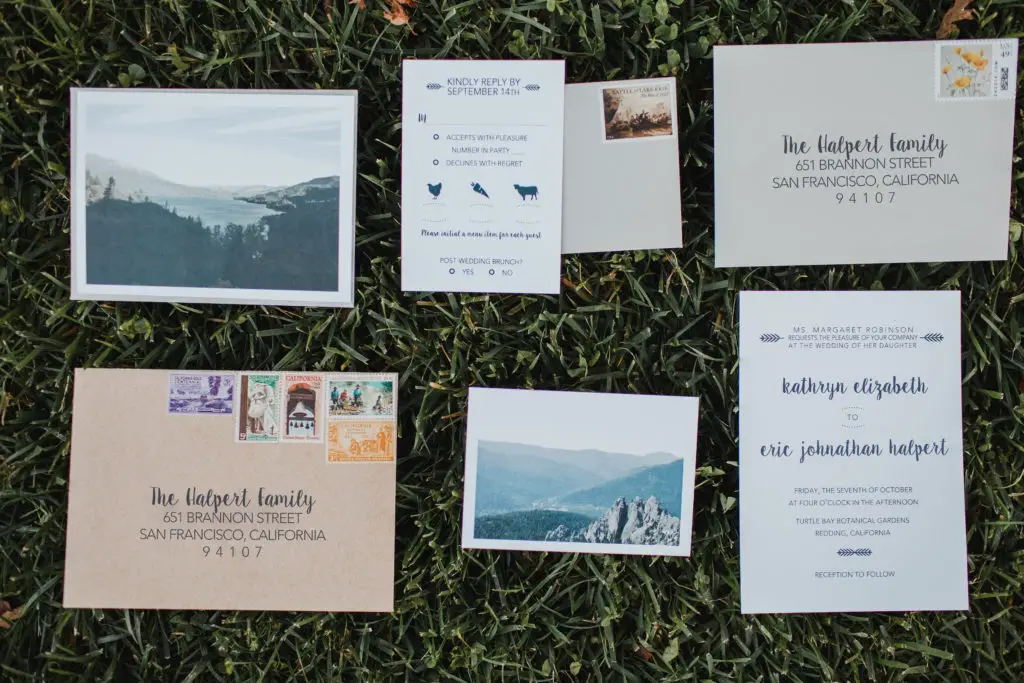 2. DIY Seating Chart & Program
Creating a seating chart was initially a dilemma for me. How was I going to create a decent-sized seating chart for our destination wedding? To do this from afar, I first purchased a large picture frame and simple easel that could be shipped to our location. I then created the seating chart in PowerPoint (to the exact dimensions of the frame) and had it printed as a poster by VistaPrint. Once we arrived at our wedding location, it was quick and easy to put everything together and have it ready for our big day.
And while I don't have pictures of it, I did the exact same thing for a large-scale wedding program at the ceremony (instead of individual programs).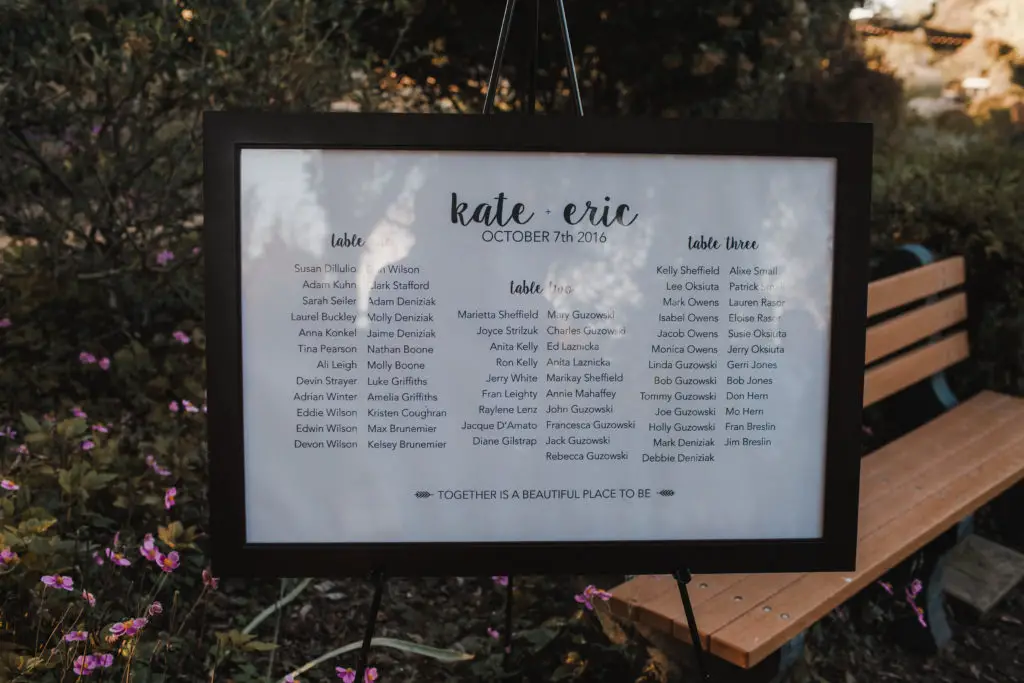 3. Customized Guestbook
For our guestbook, I wanted something a little less traditional that would have meaning for us as a couple. Since we have many memories fishing together, I decided to have a fishing-themed guestbook. I purchased a bunch of different wooden fish cutouts for guests to sign and used my dad's old fishing net and minnow bucket as props. I even added fishing bobbers to the guestbook pens. While we haven't done anything with the fish yet, I hope to use them to create some wall art to display in our home.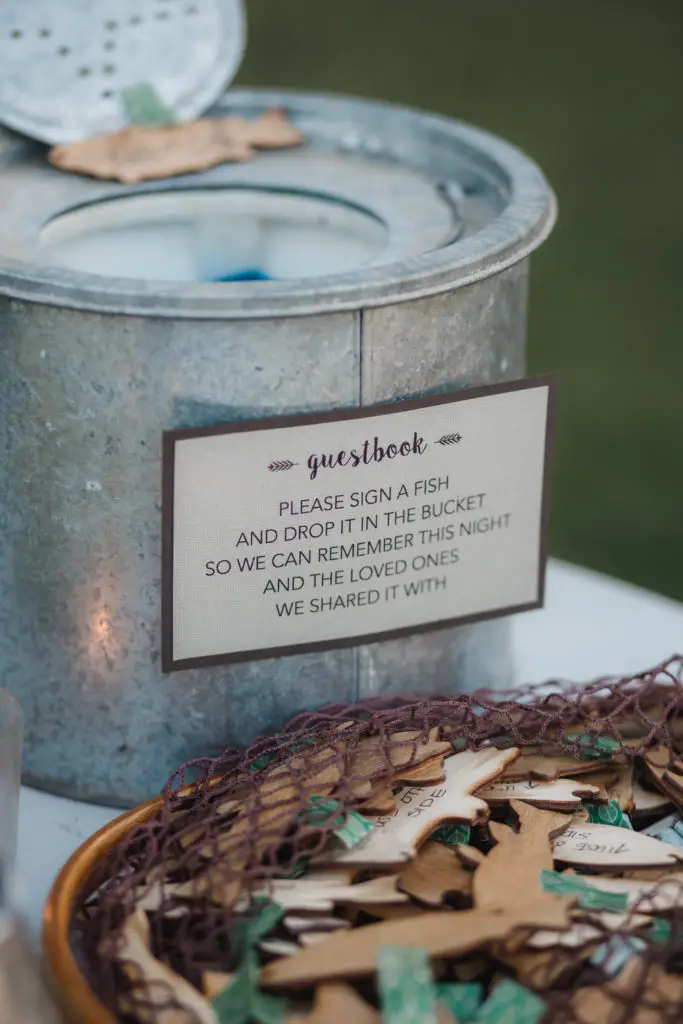 4. A Unique Wedding Card Box
To go along with the fishing theme, we had guests place cards in a vintage tackle box I purchased on Etsy.com.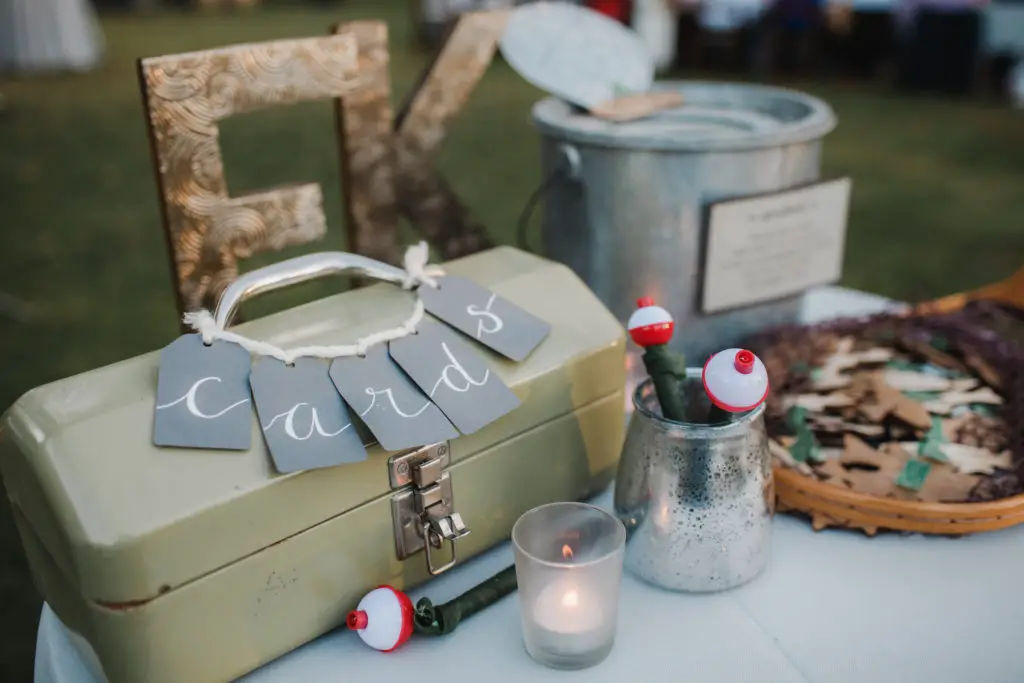 5. Homemade Signs
In addition to the large seating chart and program, I created several small signs for our wedding day (bar menu, wedding hashtag, etc.). All of the small signs I was able to create and print at home, using Microsoft Word and some nice scrapbooking paper. The small signage took up minimal space in my luggage and was easy to pop into some standard frames at our destination.
6. DIY Place Cards
I DIY'd our place cards and brought them to our destination in my luggage since they didn't take up much space. The dark gray tags are from the same company as our invites – Cards & Pockets. I lightly sketched each of the names with a pencil and went over them with a Uni-ball Signo white gel pen. I used different yarn colors to identify meal choices (without having to stamp a cow or carrot on the card!).
7. Functional Wedding Favors
While it involved little DIY – I loved our personal and functional wedding favors. Instead of glass pints, we had custom plastic cups that included our wedding hashtag on the back. The other gift was a custom wine stopper with our wedding date and names. Both were reasonably priced and we still hear about our guests getting use out of them.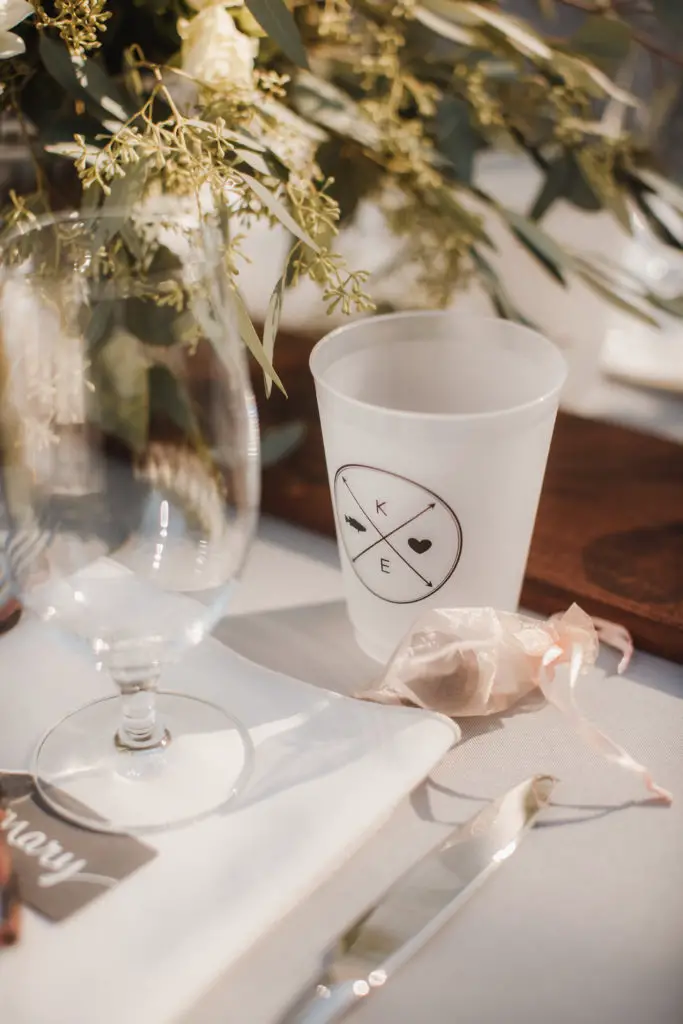 8. Special Treats
Food became another fun way to make our distance wedding feel personal. As an alternative to cake, we opted for apple pie. Two days before the wedding my mom and I drove out the beautiful town of Manton for their annual Apple Festival. We strolled around sampling apple pies and purchased about 6 from different vendors and contestants. As an added treat, we served up some delicious Berger Cookies (which are a staple to Baltimore – where Eric and I met and were living at the time).
9. Music We Love
We had both an awesome DJ and a fantastic band at our wedding. The band (headed by the ridiculously-talented Matthew Songmaker) played a mix of bluegrass and folk and got everyone on their feet during cocktail hour.
During dinner, our DJ played a variety of songs I had specifically requested. Most of which were songs Eric and I enjoyed – songs by Otis Redding, Bob Marley, The Postal Service, and so on. Dancing got a little more lively with more personal requests by artists like John Denver, Cyndi Lauper, and Missy Elliot.
10. A Meaningful Venue
We got married at the McConnell Arboretum & Gardens in Redding, California (where I grew up). Since we were living in Baltimore, and the majority of our guests were from other states, it felt like a destination wedding. I was proud and excited to show our guests the beauty of my hometown and make the experience worth their travels. My favorite part about our venue is that it's a place Eric and I can return to anytime we visit the area (they have since added a gorgeous hotel and restaurant!).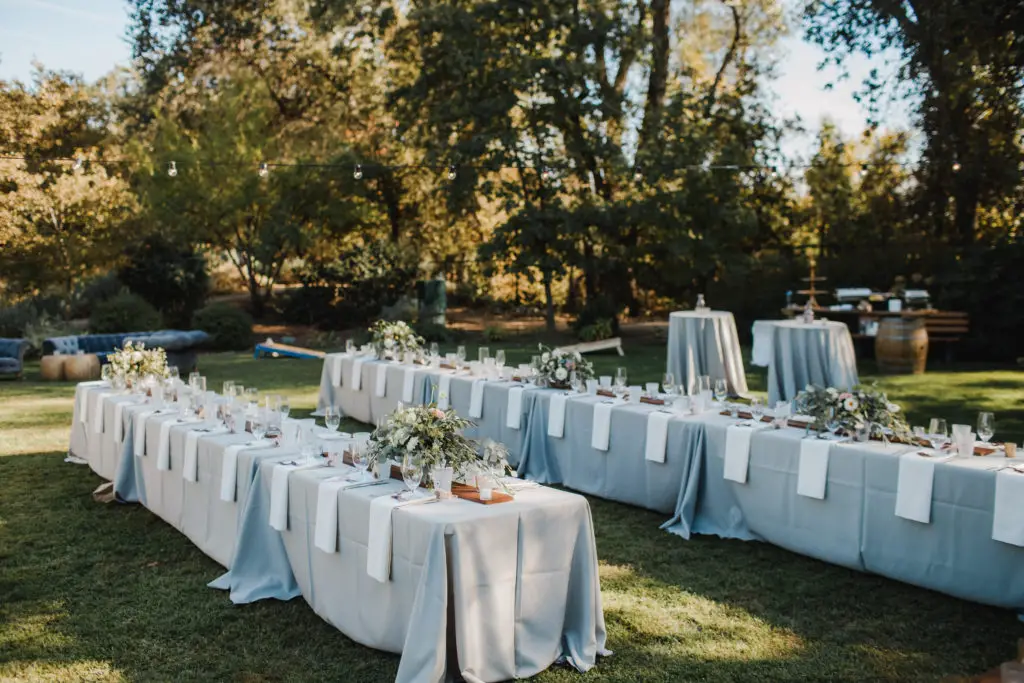 Planning a wedding from afar was daunting and stressful at times. Adding personal touches and DIYing as much as I could was what made the process enjoyable for me. I hope these examples give you some ideas for personalizing your own event (near or far!).
All photos are by Taylor McCutchan
SHOP THE POST –