Our DIY laundry room accent wall was created with some wood pallets, and a few other materials, for less than $40! It's a colorful focal point for our laundry room and helps hide some unsightly pipes.
DISCLAIMER: This post contains ads and affiliate links. At no additional cost to you, we may receive a commission for purchases made through these links and ads.
After painting the ceiling, walls, and concrete floors in our basement laundry room, I still wasn't satisfied with the visibility of the exposed pipes on the back wall. In addition, I felt like our washer and dryer were deserving of a better backdrop. So I came up with a quick solution that involved 2x4s, pallets, nails, and some paint. We had driven by a local pallet yard numerous times, and when Eric stopped to pick some up, the owner pointed to a pile of "rejects" and told him to take as much as he could.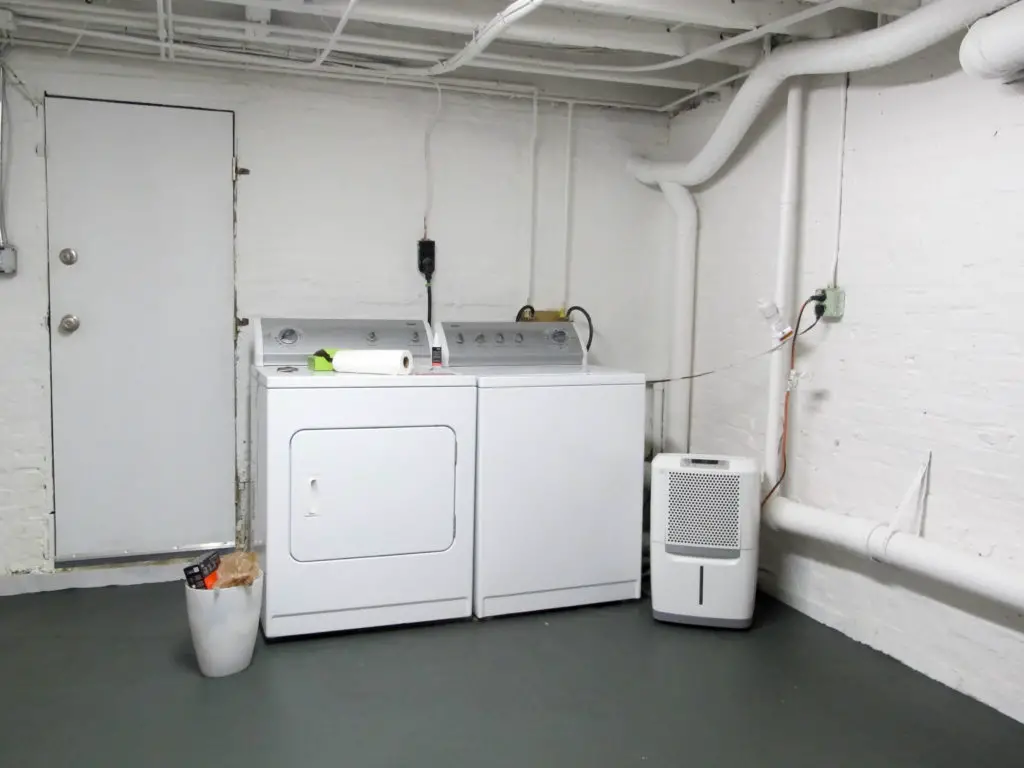 We used six 2x4s to frame out the wall (five vertical and one horizontal along the floor to secure their spacing). The top of the wall was secured directly to the floor joists.
To work around the numerous pipes and wires, we built out the wall with notched blocks of wood.  We also paid close attention to the location of the existing outlets and water supply valves – both of which needed to remain accessible.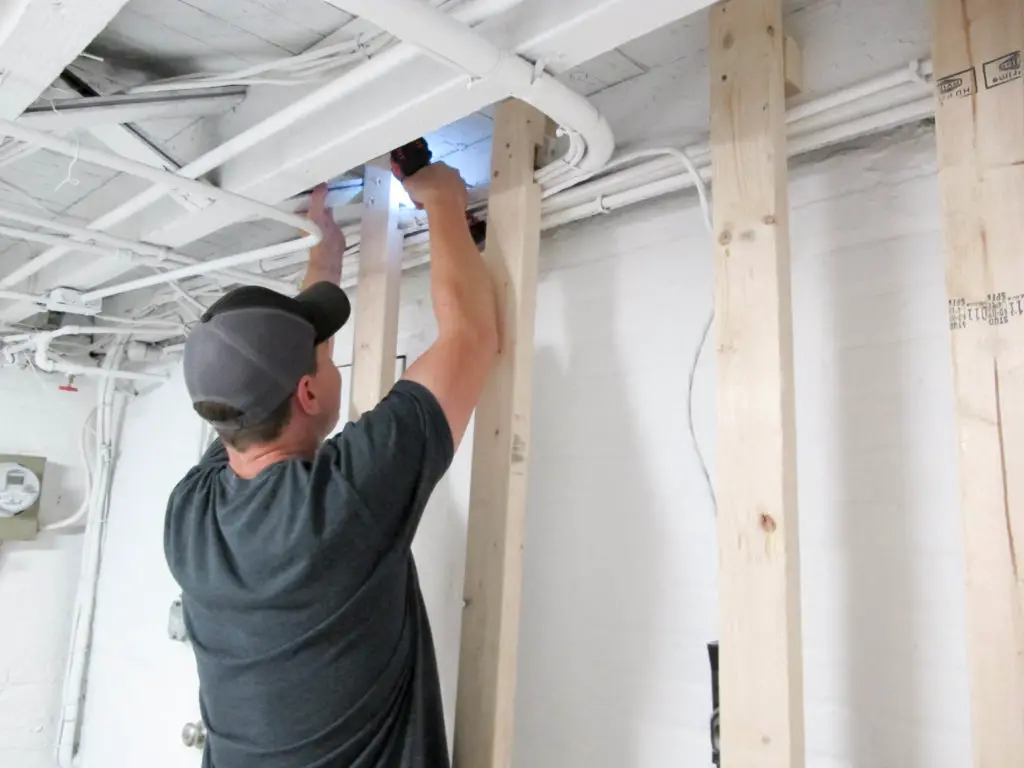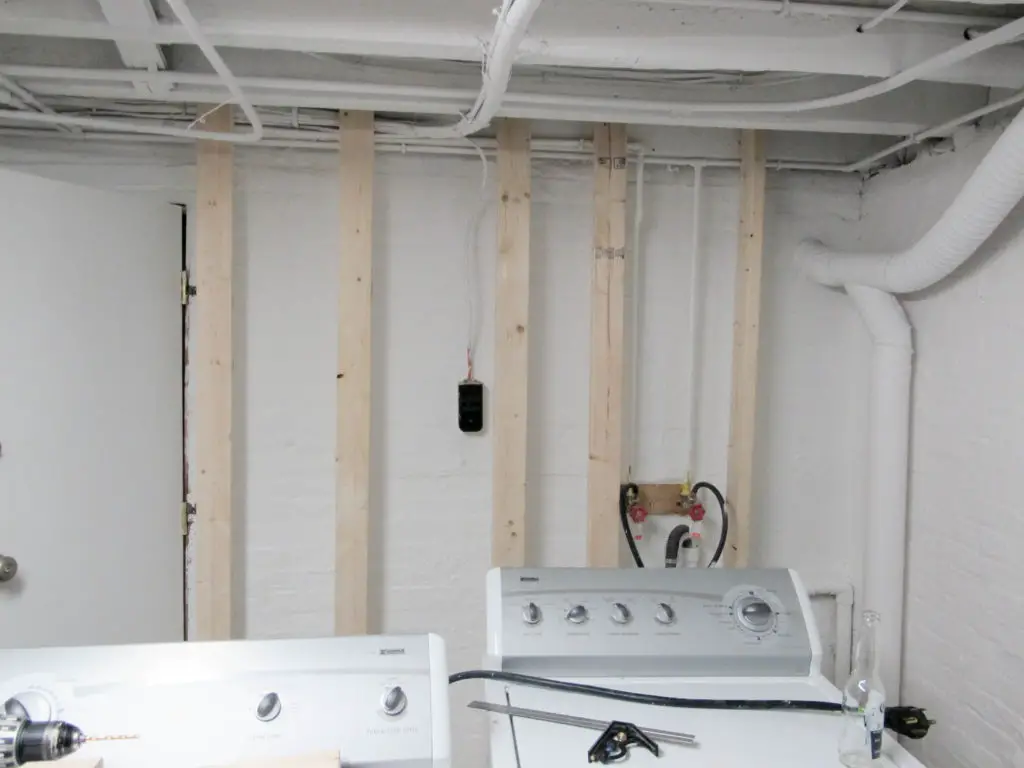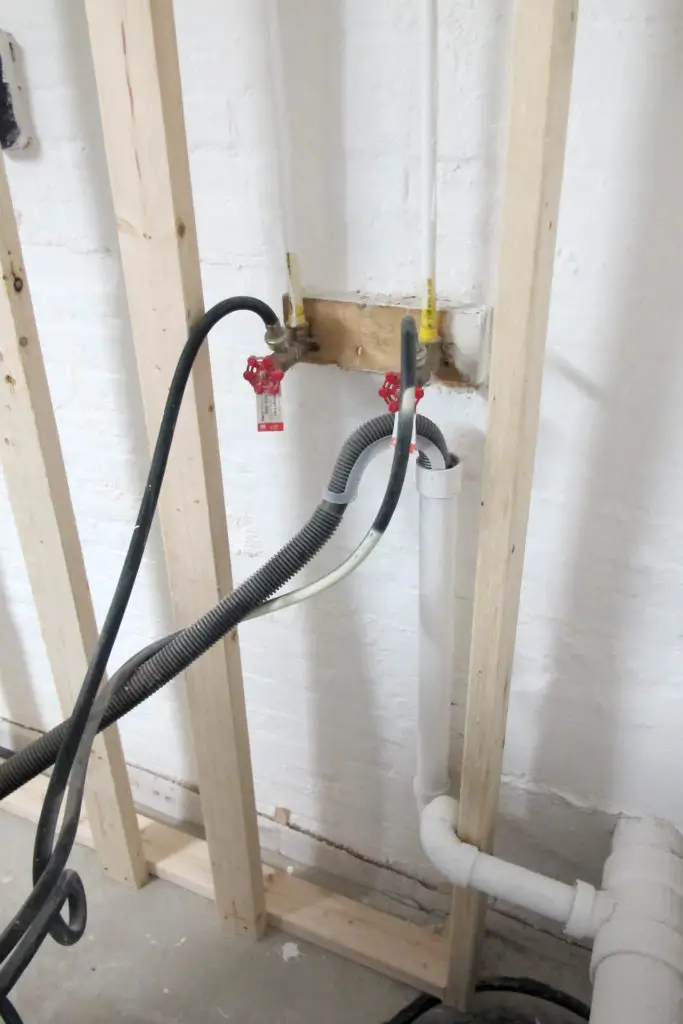 Once the accent wall was framed out, I moved on to installing the pallet planks. Initially, my plan was to stain them. But after installing several, it was obvious to me that we needed to go a different direction. I wanted the overall feel of the room to feel clean and the stained boards felt too dark and rustic.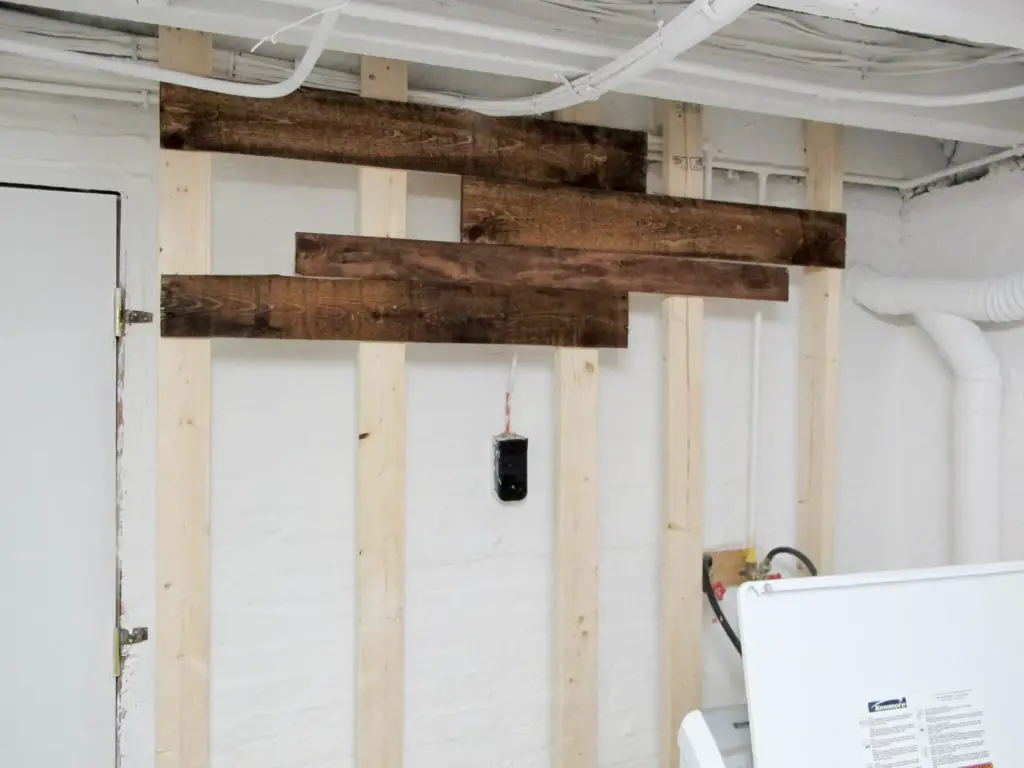 We headed to our local Ace Hardware to grab some paint samples. While we were there we found that we could get a pint of paint for $0.99! We had 3 different pints mixed up and wound up using 2 of them as the main colors on our pallet wall.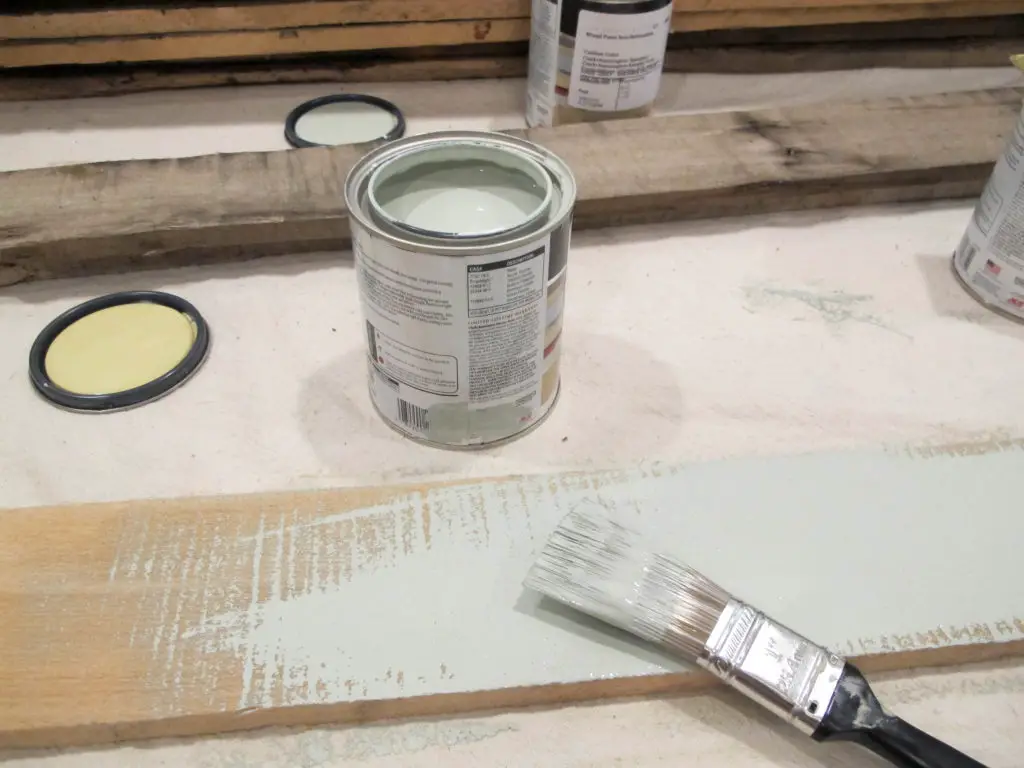 Once they were dry, I installed them one by one – cutting them (if needed), and then nailing them to the 2x4s. A nail gun would have been awesome, hand nailing was very much so doable. Once all the boards were up and fully dry, I rolled on a couple of coats of satin polyurethane.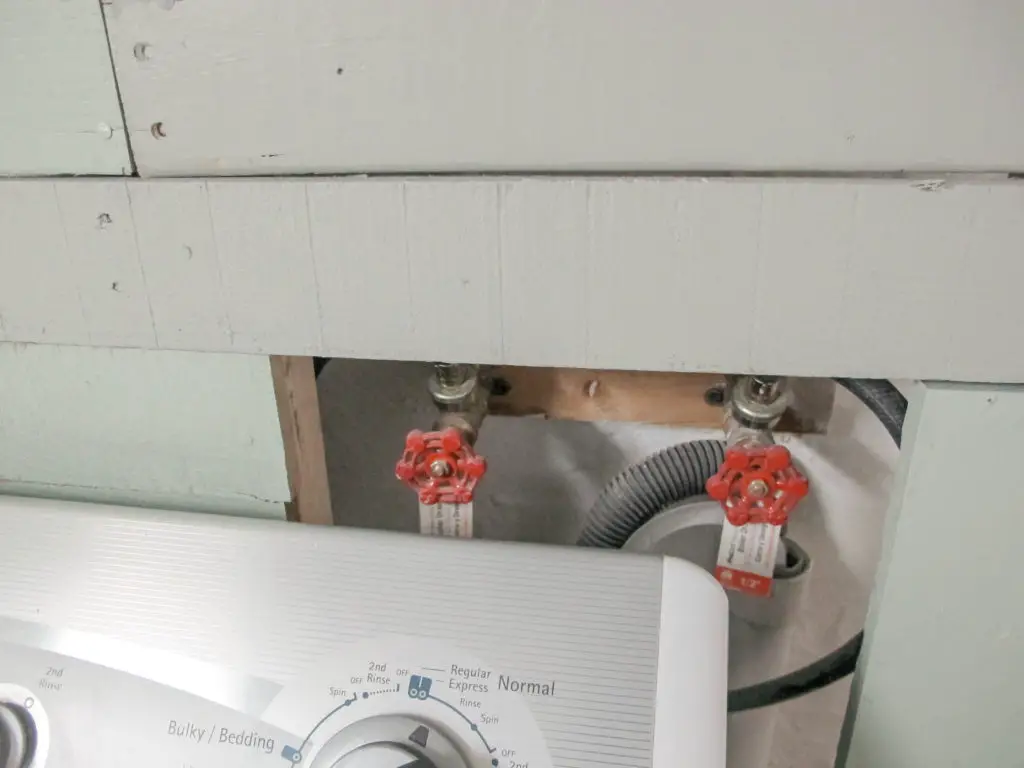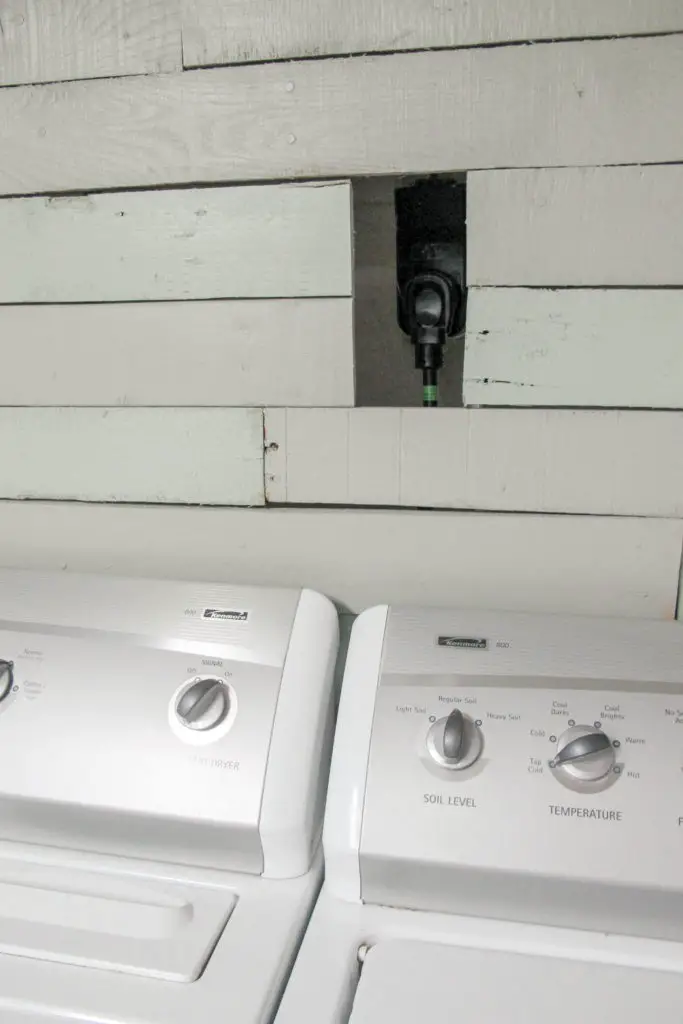 Considering that this was never meant to be one of those "looks like a contractor did it" projects, I am very happy with the way it turned out. The room was due for a touch of color and this accent wall provides a nice backdrop to our laundry station. We spent about $35 on the 2x4s and $3 on paint. So, with the use of our existing nails and tools, and the free pallets, this project easily came in at under $40!