As I mentioned in my previous post, a California King bed is something we had wanted for a long time. But once we realized how expensive a nice frame would be, it was time to get building. Of course I found this project to be the perfect excuse to finally get a Kreg Jig! In terms of actual materials, one of the first things I ordered was a set of tapered furniture legs from DIY Upholstery Supply. These were the widest I could easily find – 2.5″ at their widest and 6″ tall.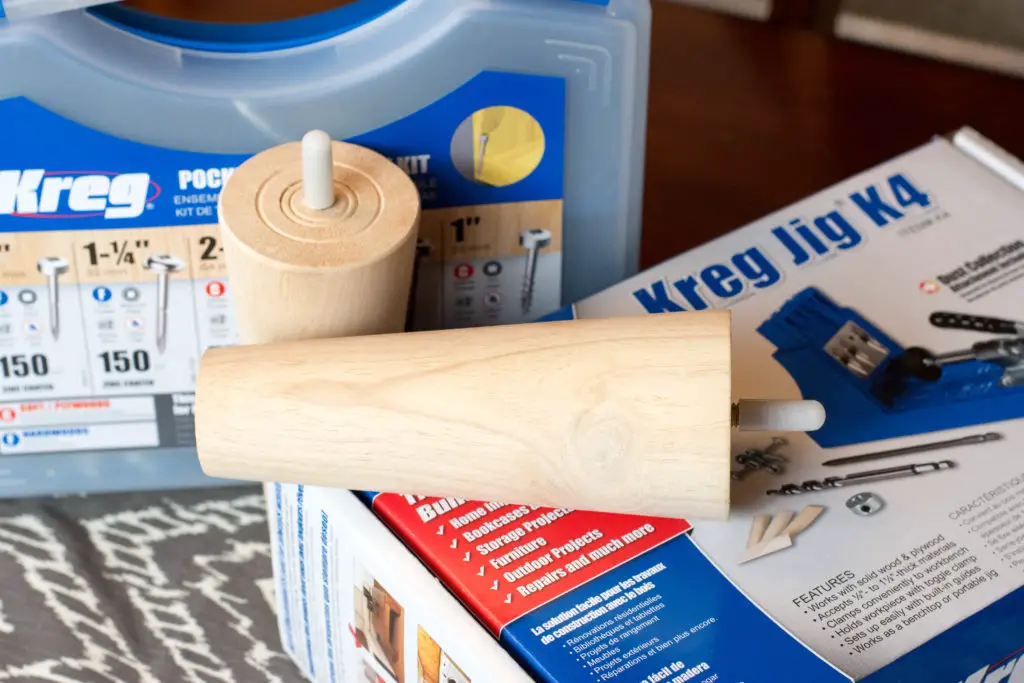 We picked through various types of wood at our nearby lumbar yard and eventually settled on hemlock. It's a soft wood, but even toned and doesn't have any knots. We purchased four 1×8 boards of hemlock, and five basic 2x4s. The price came out to be around $170. You could obviously do it cheaper (or more expensive) with different types of wood.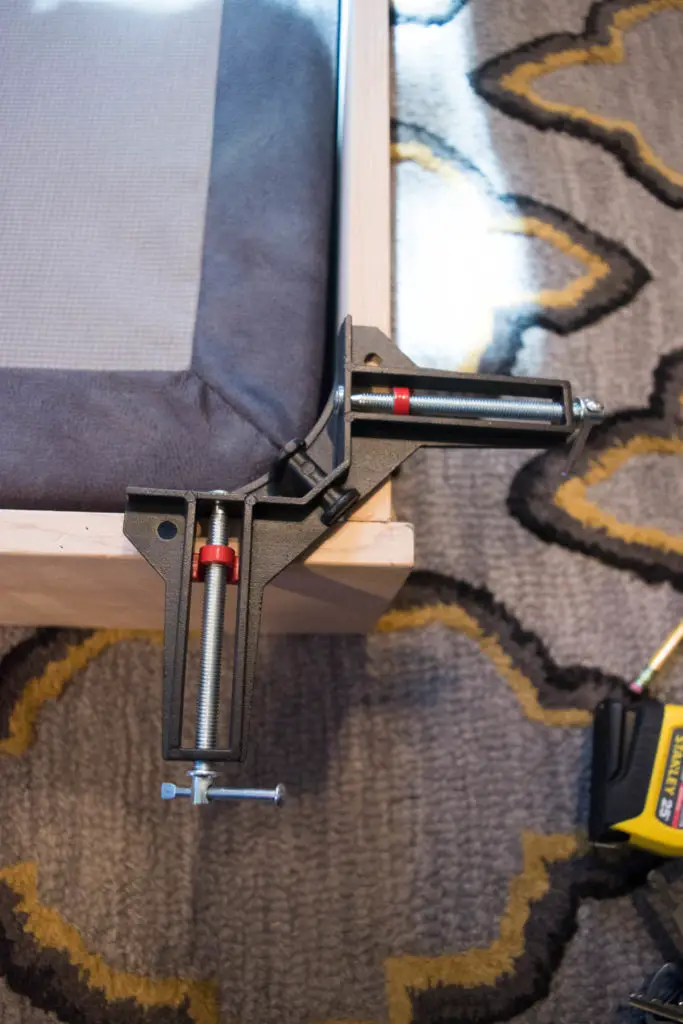 My method for cutting the boards to length was simple. The first thing I did was measure the length of the box spring, and then added an inch and a half (to allow for an easier fit and room for bedding). After the long boards were cut, I grabbed my corner clamps and lined up the boards at the head and foot of the bed. Once I was happy with the fit, I marked off the excess and trimmed them to size.
Then I got to bust out my brand-spanking-new Kreg Jig! If you are using a Kreg Jig for the first time, I highly recommend practicing on some excess boards to make sure your settings are correct.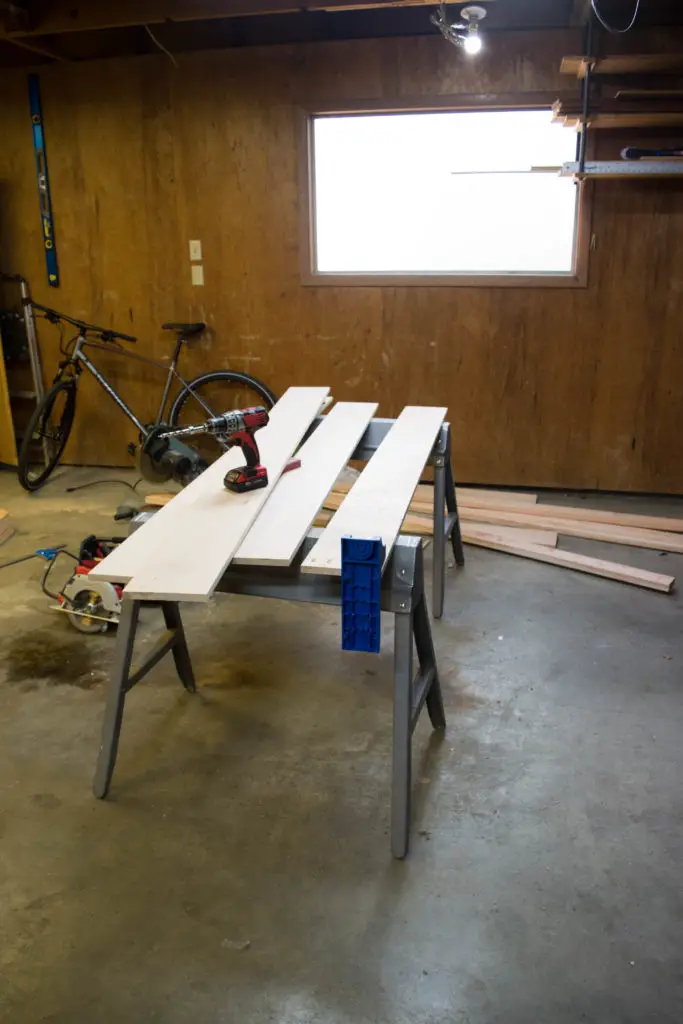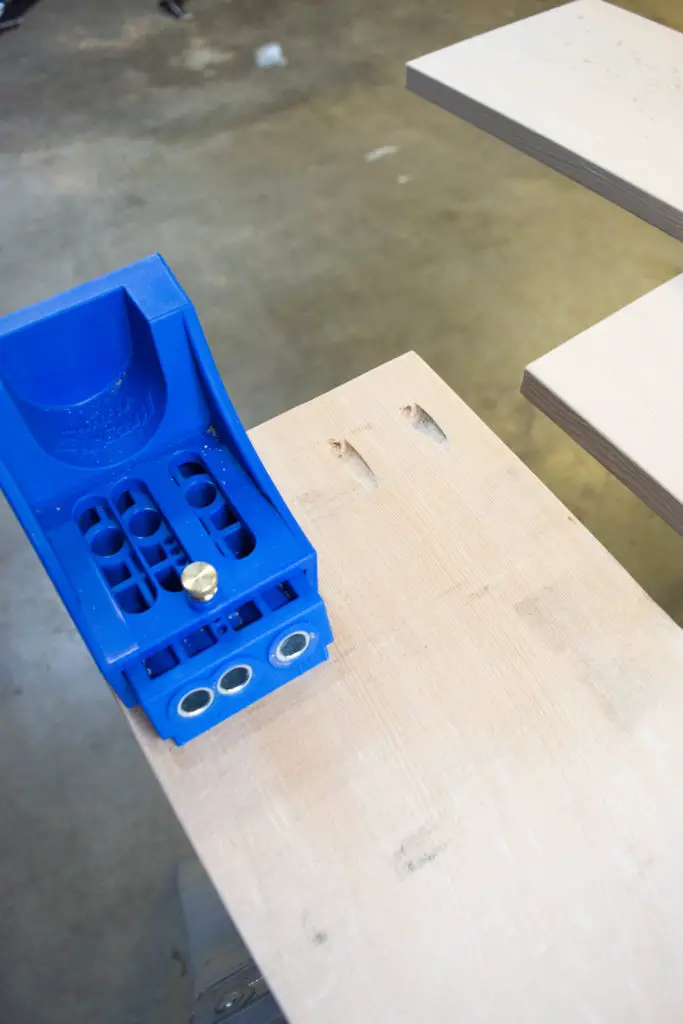 You only need to drill pocket holes in the boards that will not have exposed ends. For me this was the long side boards. I assembled the bed in our room, but I don't necessarily think you have to do it this way, depending on your situation. After the four sides were secured together (use corner clamps!), I reinforced the corners with diagonal supports (where the legs will be attached to). A Kreg Jig will still work on a 45-degree angle, you just place the end in flush and line up the guides with the end of the board. The picture below shows the bed frame flipped over (you're looking at the bottom) as I was attaching the plates for the legs.
*Initially the inside length of the diagonal cut was 10″, but you could hardly see the legs on the final product, so I went back and cut them down to an inside length of 5″.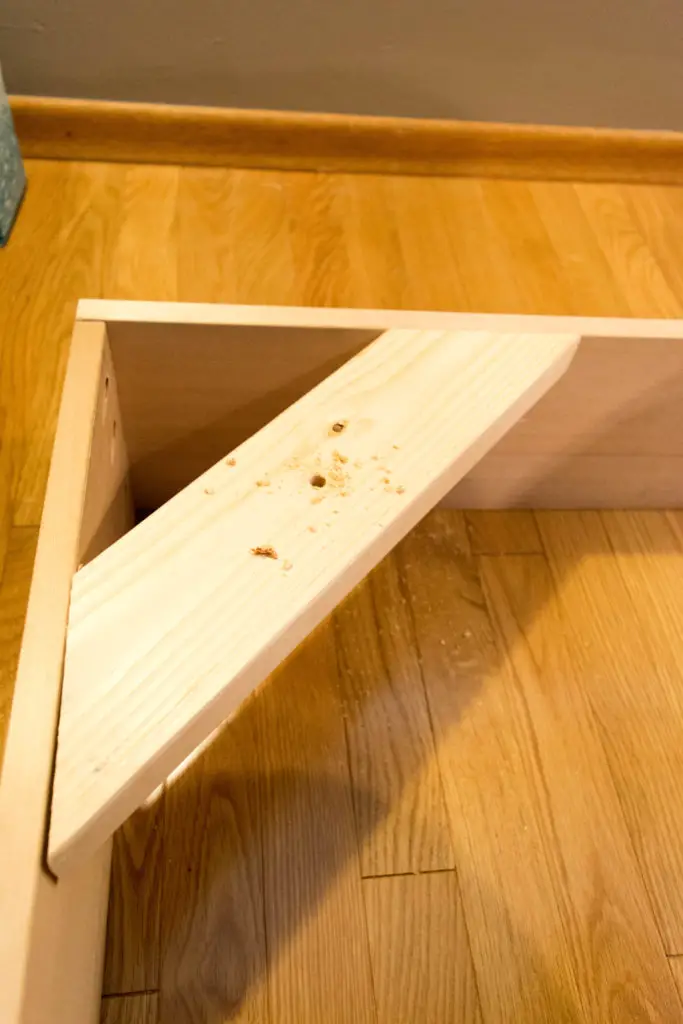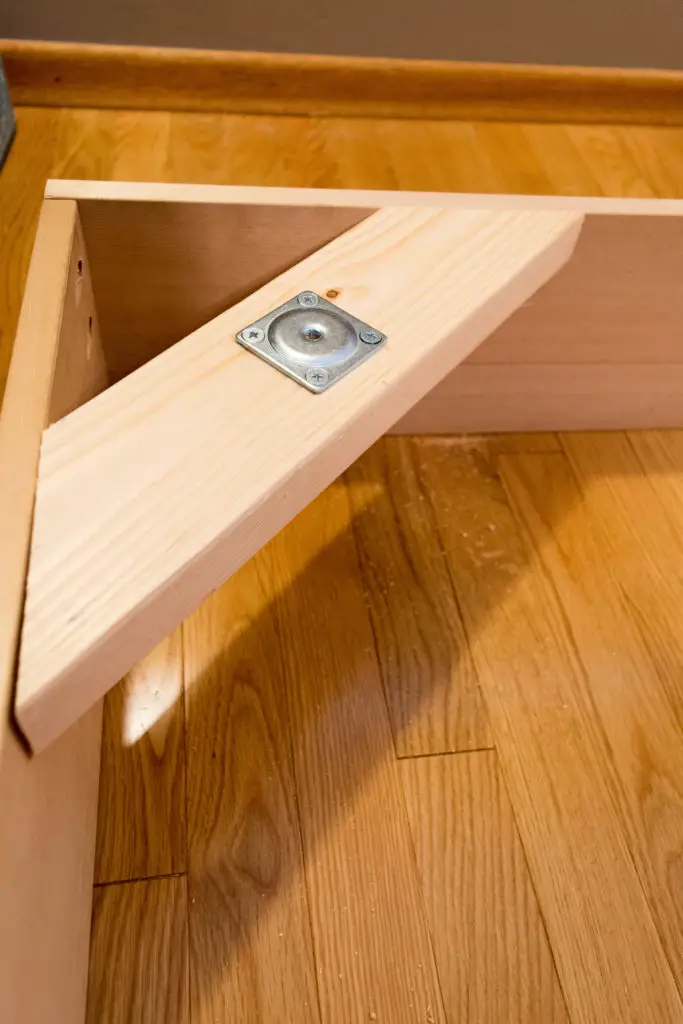 Next step was to attach the cross supports. I flipped the frame right side up and cut three 2x4s to fit horizontally. I wanted the 2x4s to sit just slightly higher than the base of the frame (so they wouldn't be visible from the side), so I used a thin book as a guide.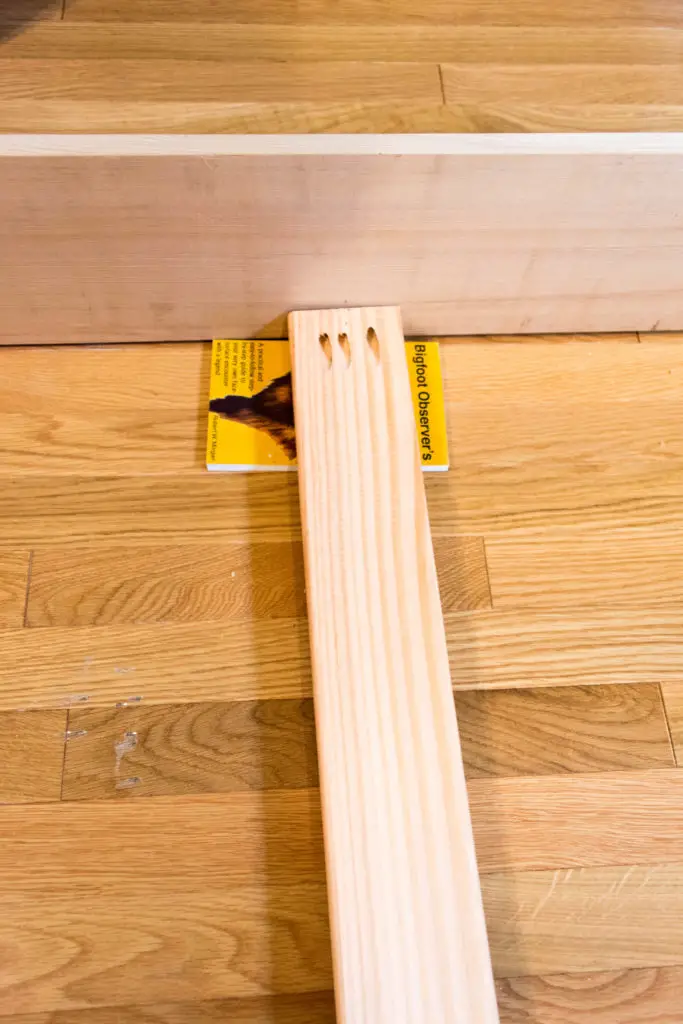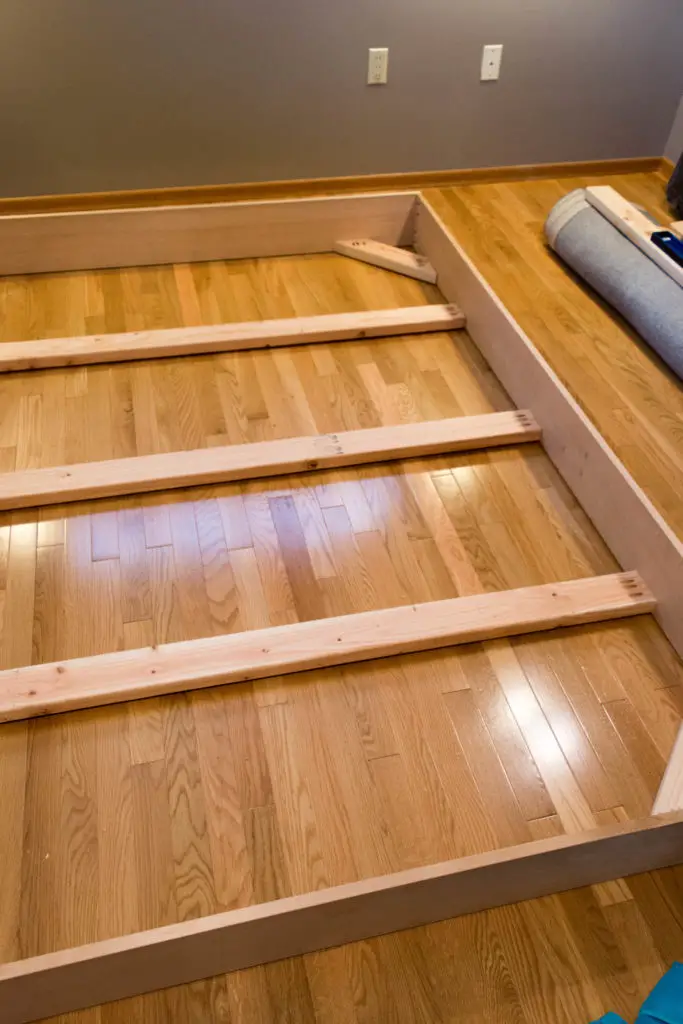 We also needed a center support for the split box spring, so I installed 2x4s cut to length between each horizontal support. Our bedframe is built for a box spring, if you are building for a platform bed, you will need more horizontal supports.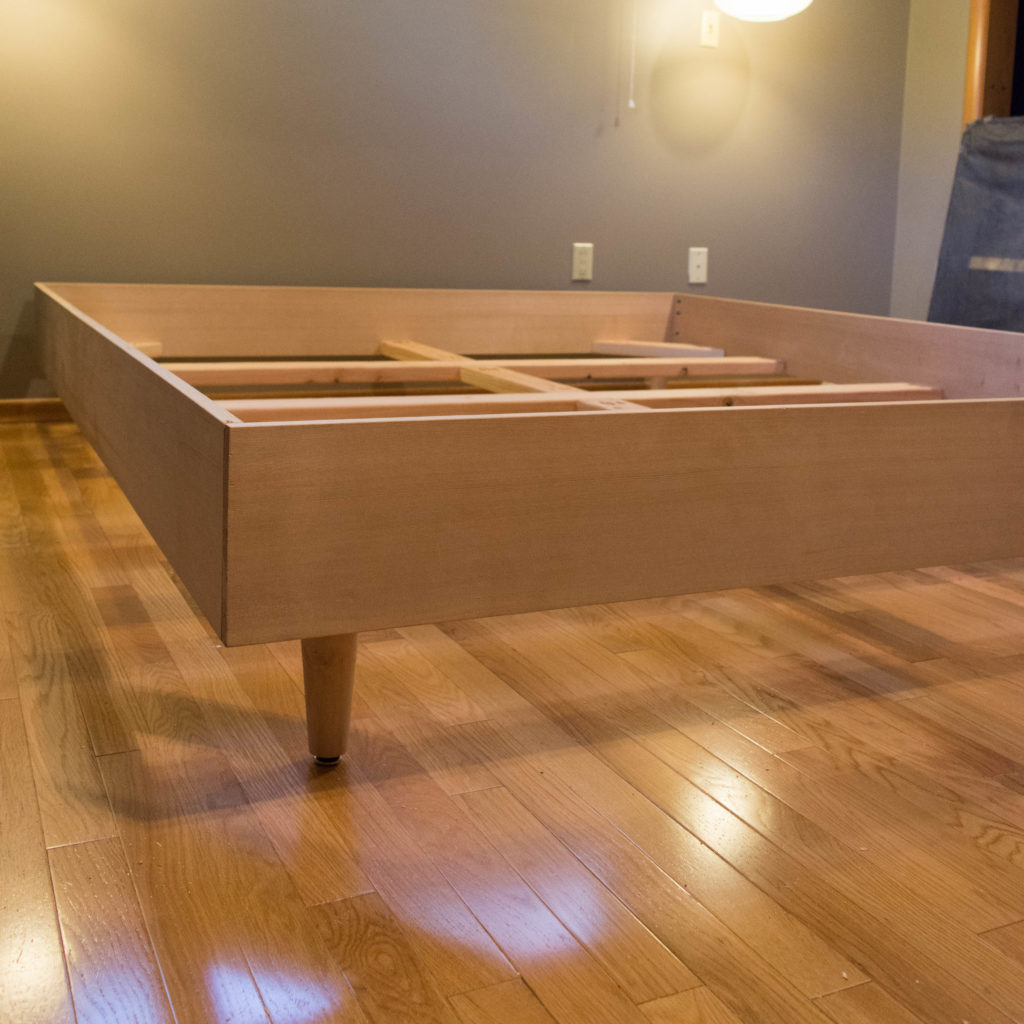 Before installing the legs, we added adjustable furniture feet to each of them. You can see an uninstalled one on the right side of the picture (below), about half way down. Drill a hole just wide enough to accommodate the receiving plastic end, and then hammer it in to place. The feet screw into the receiving end and will help with leveling.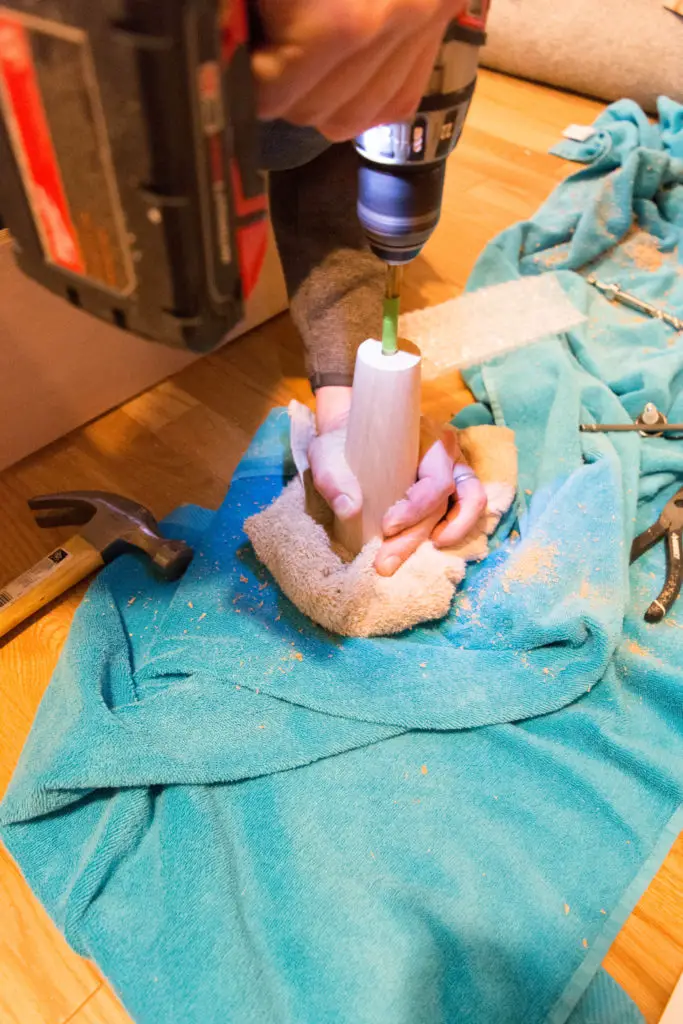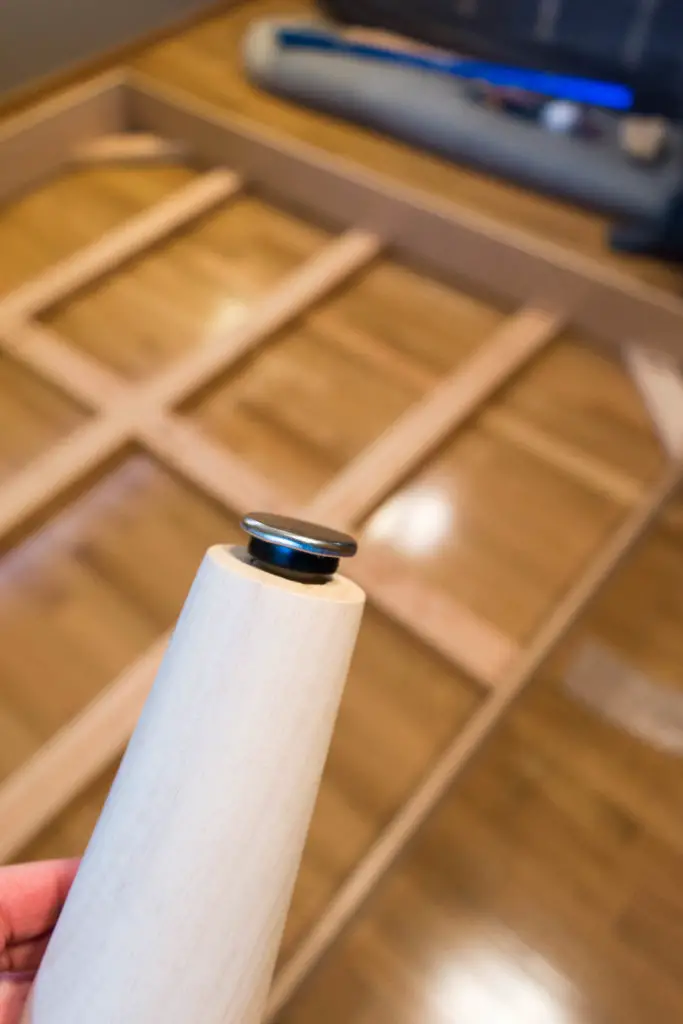 I'd say for anything larger than a twin bed, you will need at least one center leg support. For our California King Bed, we opted for a total of 4. We attached them to each of the horizontal beams and one at the head of the bed (not shown).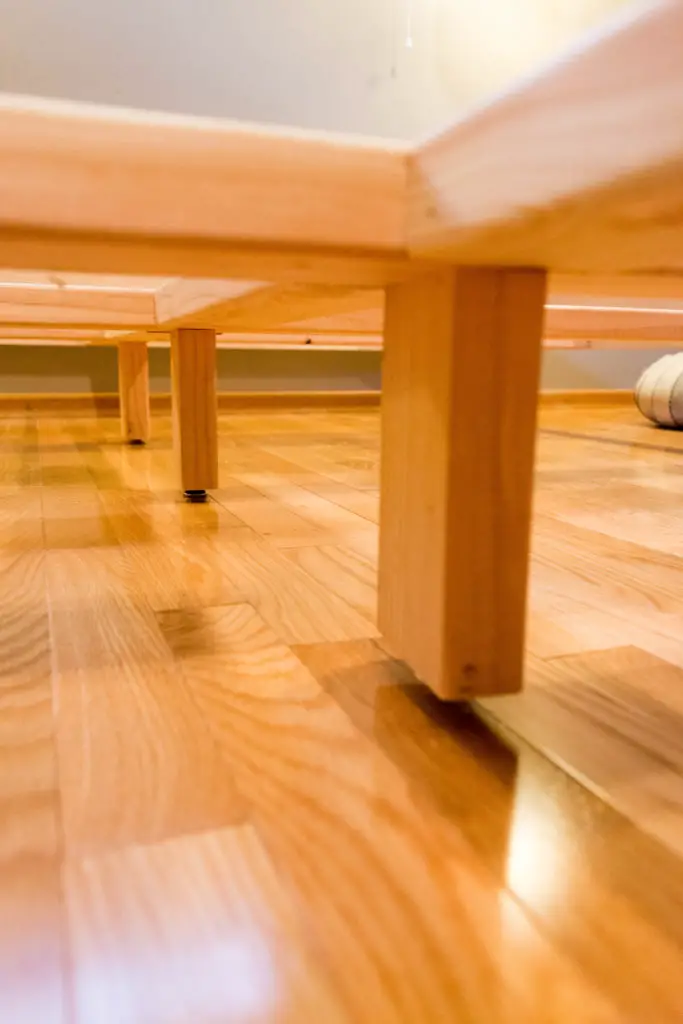 That wraps up the construction! Woot woot! Now on to my least favorite thing ever – staining. I won't bore you with pictures of all the dissatisfying stains I tried. Maybe I'm just picky, or terrible at staining, but I still hate Minwax wood stains. Everything came out looking blotchy and uneven. It also didn't help that I was trying to match the wood to our existing retro dresser. In a moment of feeling desperate, I did something I never thought I'd do, I bought a can of Polyshades. But guess what?! I think it worked pretty darn well.


I didn't apply the Polyshades straight out of the can though. The color was darker than I wanted, so I diluted it – 1 part Polyshades to 2 parts satin Polyurethane. Before applying it, I recommend using a wood conditioner. I applied two coats of my diluted Polyshades with a natural fiber brush. To get a really smooth finish, I let each coat dry throughly and then buffed them with fine steel wool (clean off all the dust before applying the next coat). The last step was applying a single coat of the satin polyurethane.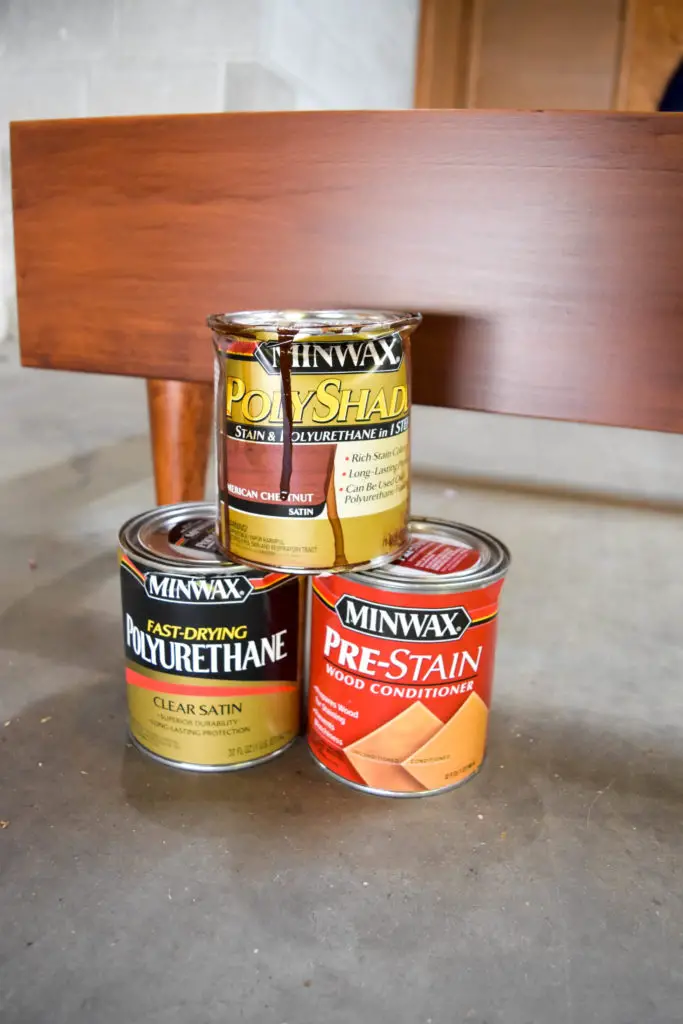 The color doesn't match perfectly with our existing dresser, but that honestly hasn't prevented me from being super happy with the end result. Initially we thought we would build a head board, but now that everything is in place, I think we will keep it as is and just beef up the pillows.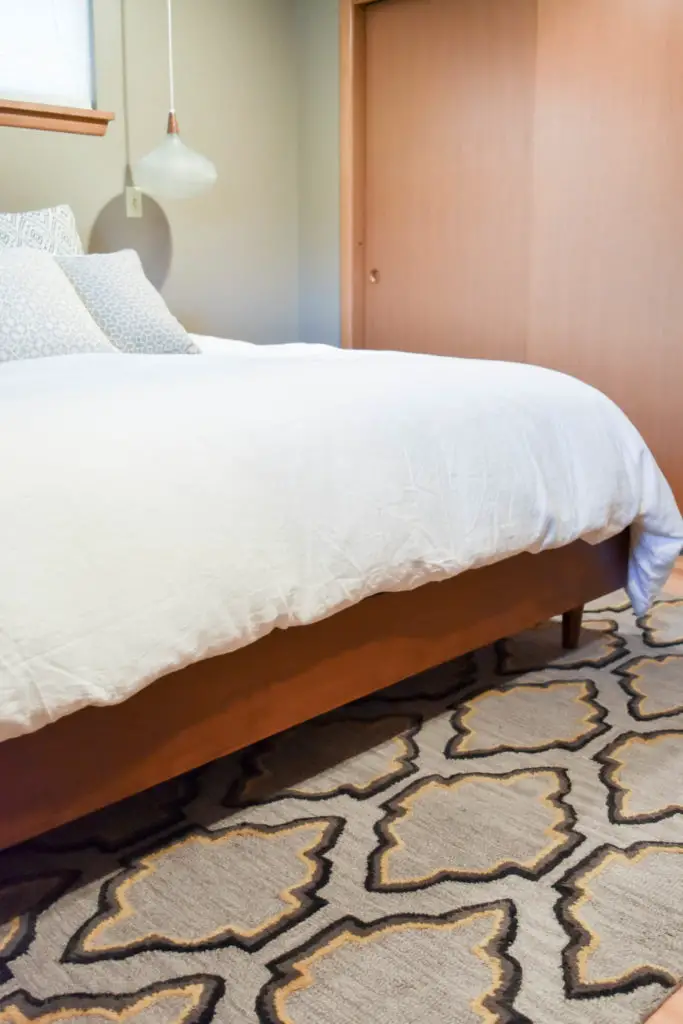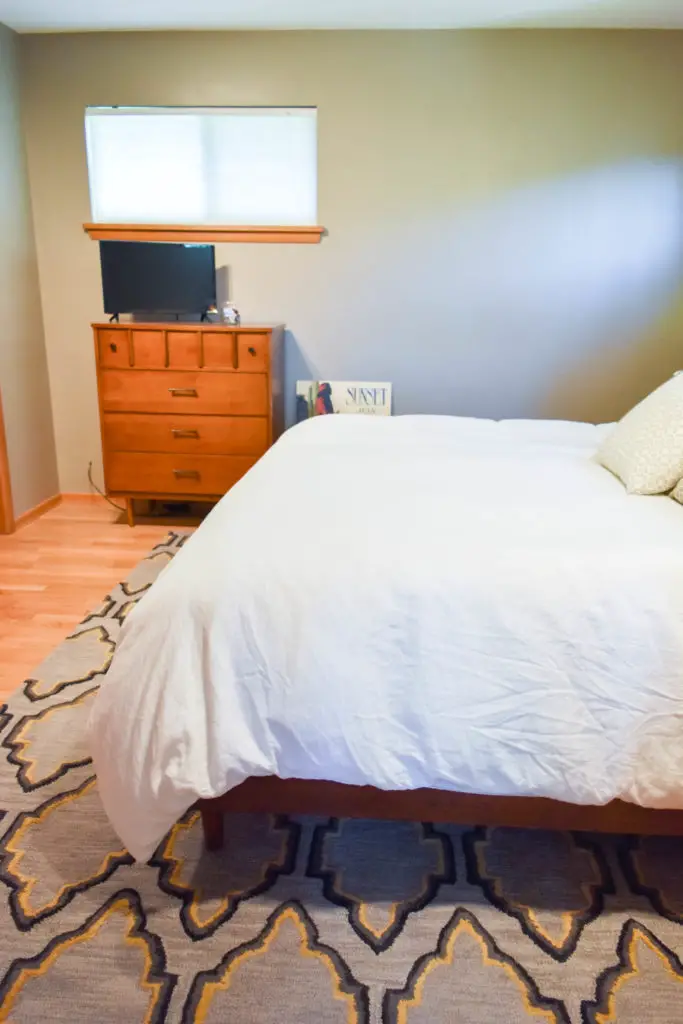 Also, I just have to give some love to our awesome pendant lights (which are original to the house!). I can assure you these aren't going anywhere anytime soon – or ever!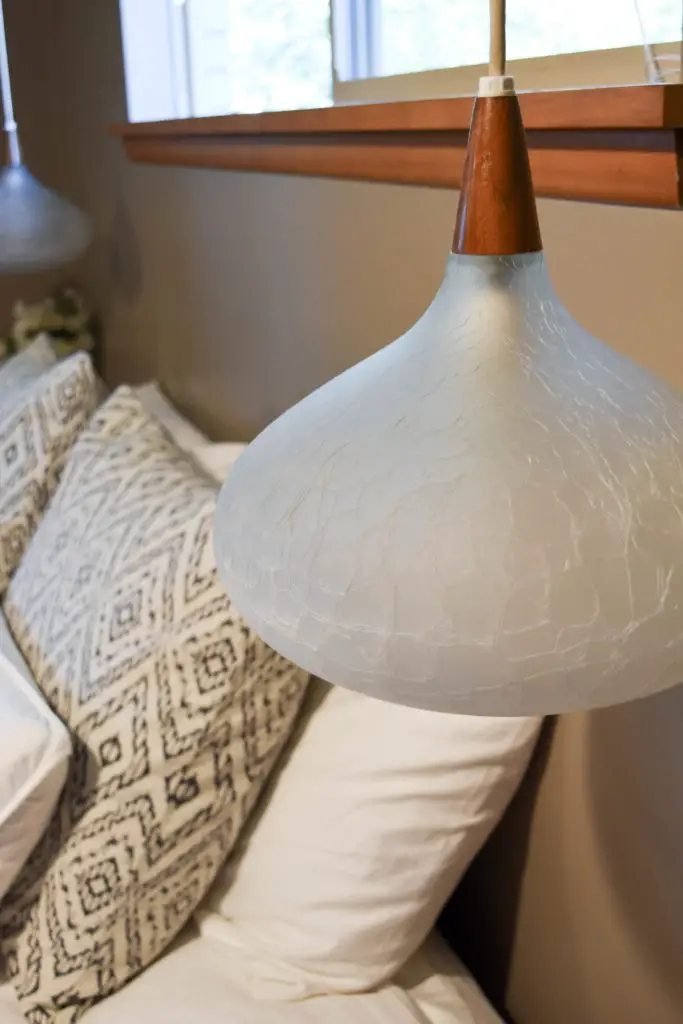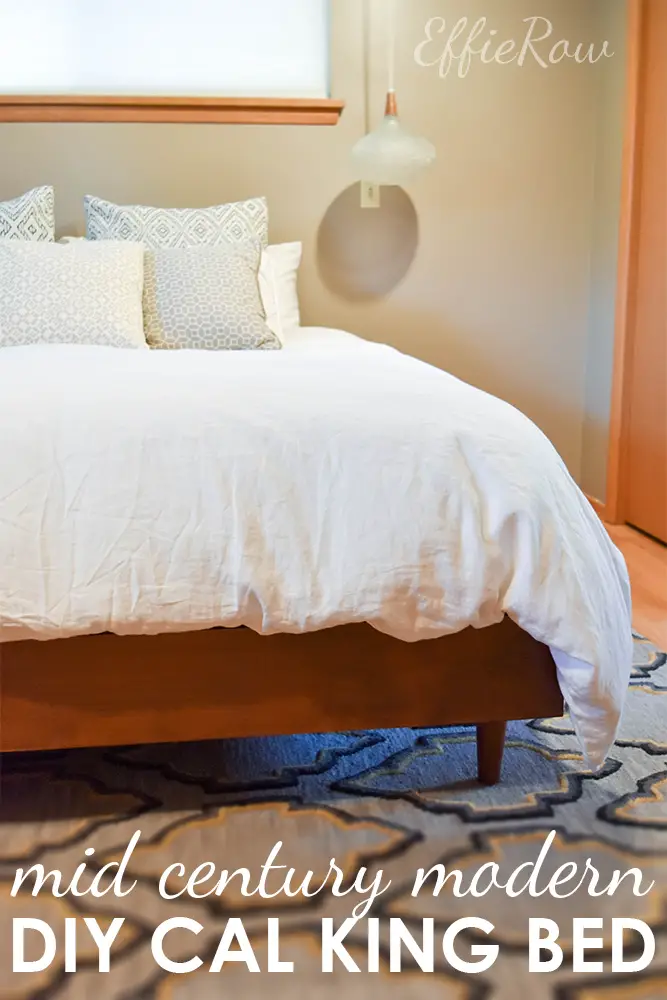 ***This post contains affiliate links and/or ads.***