Stripping and refinishing the slate tile in our entryway was easily one of my favorite renovations. Not only did it give us a seemingly new floor, but it also saved us hundreds (if not thousands) of dollars in replacement costs.
DISCLAIMER: This post contains ads and affiliate links. At no additional cost to you, we may receive a commission for purchases made through these links and ads.
For the first few months of living in our new home, I was convinced we were going to rip out the tiled entryway floors. I had tried various techniques to clean them but it became apparent that the majority of the stains were sealed in.
To be honest I didn't even know what material they were until a delivery man told us. He was totally enamored with the floors and pretty much convinced me on the spot to try refinishing them. It was a last-ditch effort but let me just say I am so glad we didn't rip anything out!
Note: I was told the floors were blue granite, but after a little bit of research I believe he meant to tell me they were blue slate.
Sadly this project took place at a time in my life when I was useless at taking "before" pictures. I could have sworn that I took great pictures of the floors in their original state, but alas….all I have are some stray pictures from the home buying process and the living room remodel.
The first step in refinishing our blue slate floors was to remove the existing high-gloss finish. Without doing much prior research, I picked up some Trewax Floor Stripper at our local hardware store. To my delight, it worked like a charm.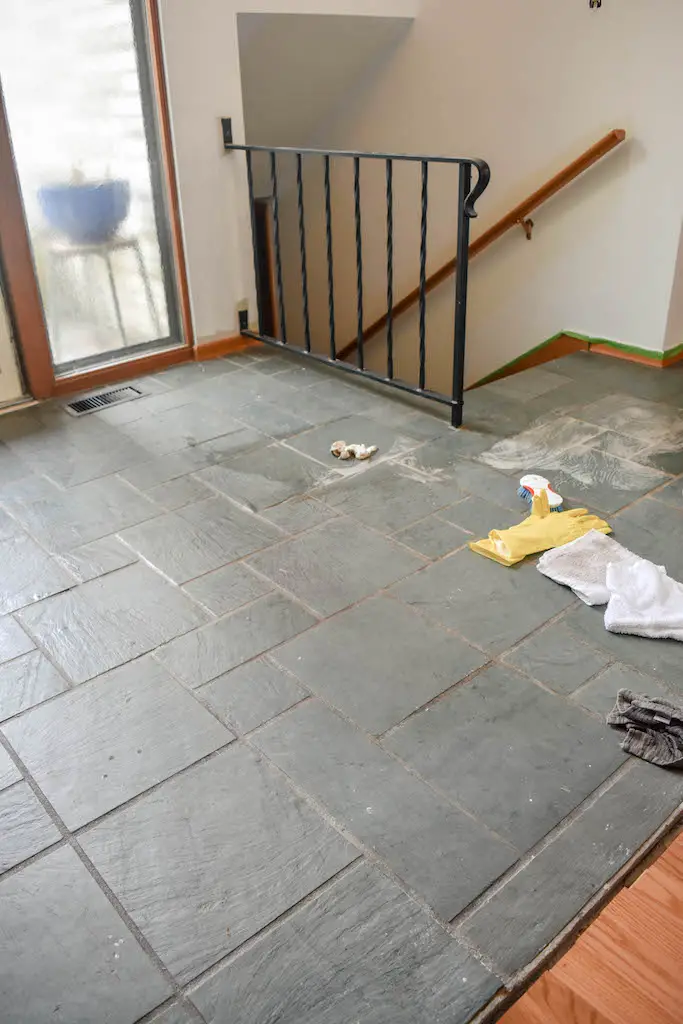 Working in small sections, I generously but carefully applied the solution. After letting it sit for approximately 10 minutes – I scrubbed the stone and grout with a stiff-bristle brush. The results were immediately noticeable! I cleaned up the dirty suds with rags and moved on to the next section. What was left was a dull, but very clean tile and grout.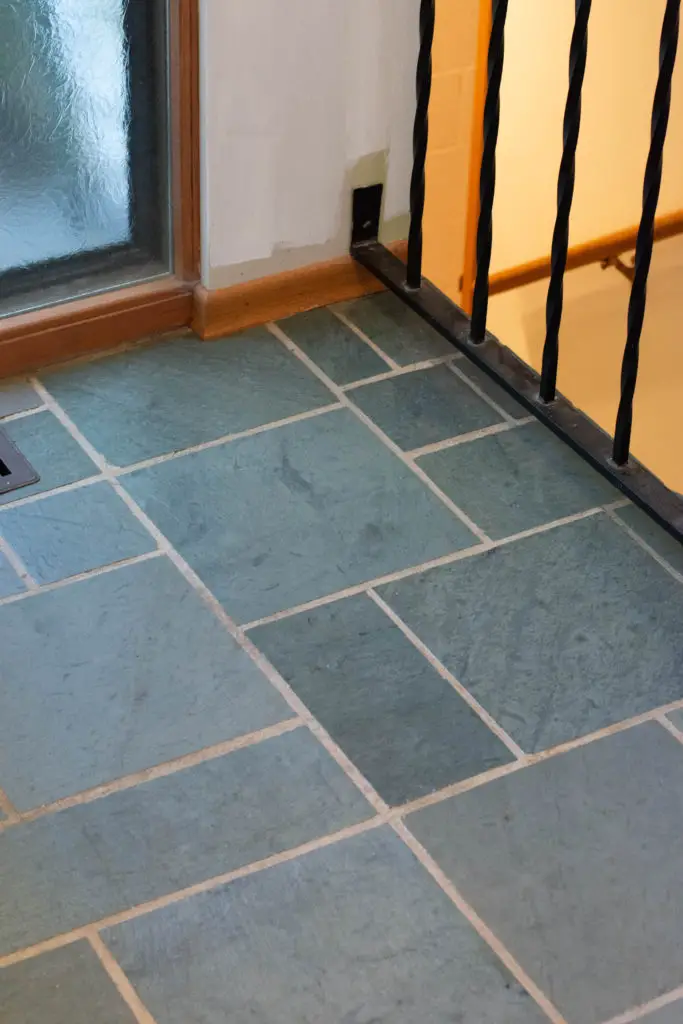 I did a few cleanings of the floor with plain water until I had minimal residue left in the mop bucket.
We let everything dry over a few days and then applied two coats (a day apart) of Miracle Sealants Impregnator Sealer to help with water resistance. The following weekend we applied a high gloss sealer (also by Miracle). Our goal was a moderate sheen but not a "high gloss" or wet appearance. We applied two coats of the high gloss sealer, but if you desire a shinier finish you can apply more.
Because the floors are at the threshold of front door and garage entry, we had to be strategic with when we applied the sealants. We always timed it to apply in the afternoon or evening (after we knew we would not need to leave). We also we're pretty gentle on the floors for the 48-72 hours after the last coat was on.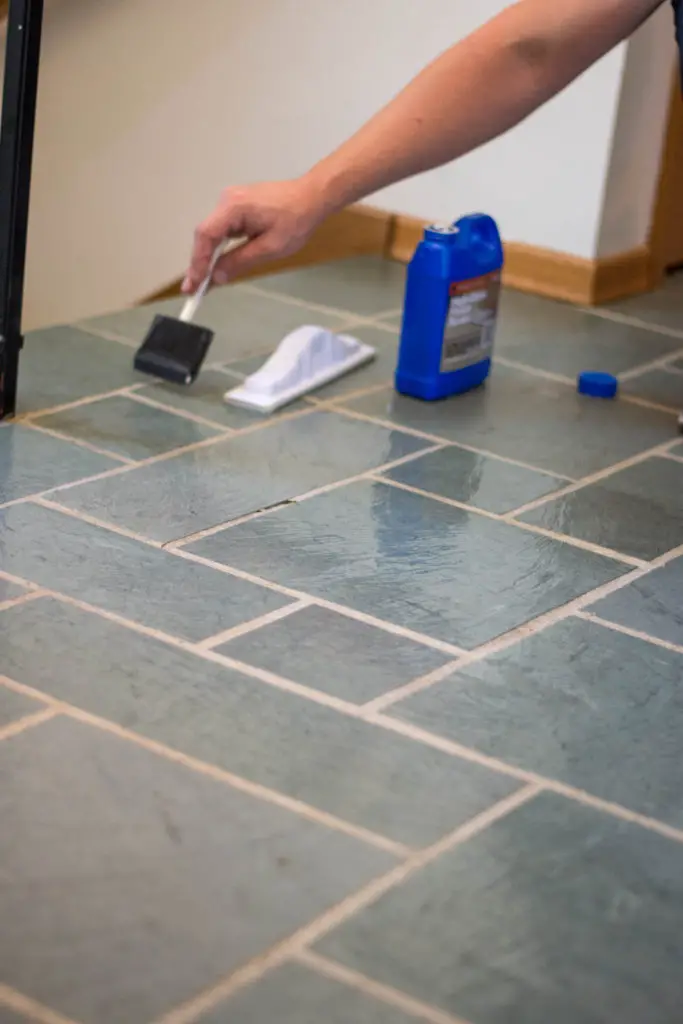 On one of the sealer bottles, it mentions repeating the application every few years (…I could be making that up). It's been over 2 years since I have refinished the floors and there truthfully hasn't been any obvious need to re-apply or re-do anything.
The final pictures (below) are from the floors in their current state. The refinished surface has held up great. I'm so glad we were able to refinish our slate entryway floor to it's original beauty! I've come to love the tile for its mid-century vibes and can no longer imagine something different in its place! (though I could definitely part with the baby gate!).