Shortly after building our modern patio table, we finished it with an outdoor stain to give it some color and protect it from the elements.
DISCLAIMER: This post contains ads and affiliate links. At no additional cost to you, we may receive a commission for purchases made through these links and ads.
When it came to finishing our modern patio table, there was never much debate in terms of paint vs. stain. It was more so a question of what we would stain it with.
Durability and protection were really important to me. I've read some shall we say "horror" stories of applying polyurethane to outdoor furniture. The seal and beauty are short-lived as it inevitably cracks and flakes from exposure to moisture and temperature fluctuations.

Since we would be staining the wood without any polyurethane, I knew it was likely that the table would show some age and weather over time. With that in mind, I wanted something that would slow this process down, but also be easy to touch up and reapply as needed.
I settled on a product by Cabot called Australian Timer Oil. It's an outdoor stain marketed for its use on decks, siding, and outdoor furniture.

Australian Timber Oil comes in a few different brown shades and I felt that the Jarrah Brown would best match the exterior doors on our patio. I see so many gray and dark stains these days, but I love rich golden stains outdoors.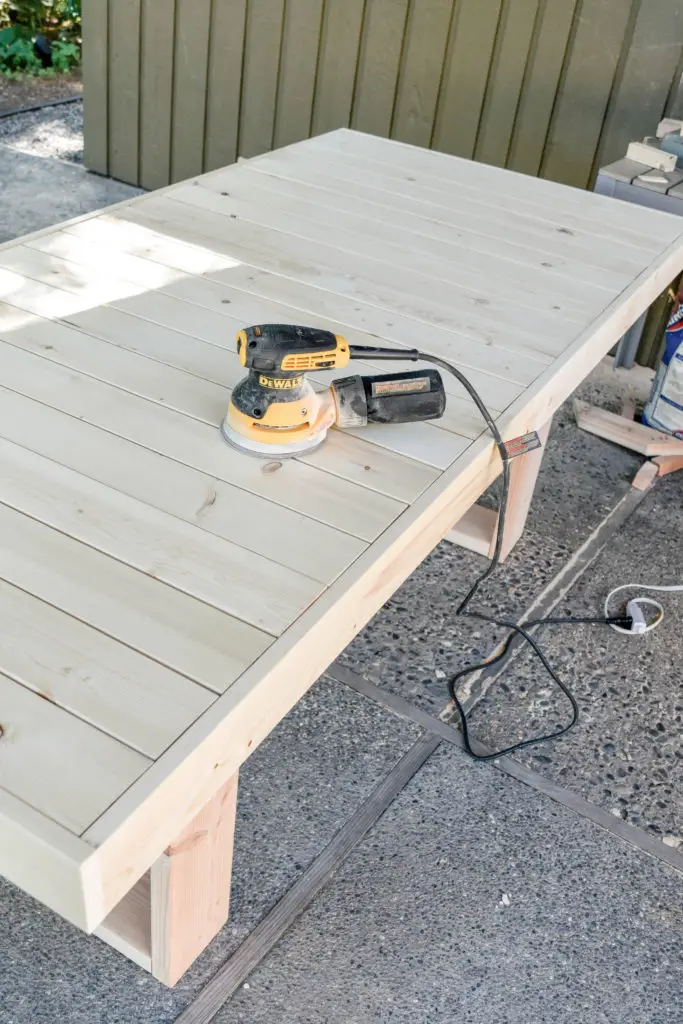 To prep the wood, the table was sanded with 80, 120, then 220 grit on our orbit sander. From there it was a matter of applying the stain and wiping off any excess. I brushed on the stain in hard to reach areas (between the slats). But for the majority of the surfaces, I rubbed the stain on with a rag dampened with stain.
Following the instructions on the can, I only applied one coat of the stain, and that seemed to be enough. We're pretty happy with the result – a rich stain that makes our patio table as welcoming as it is modern!