DISCLAIMER: This post contains ads and affiliate links. At no additional cost to you, we may receive a commission for purchases made through these links and ads.
I'm writing this post months after this project was completed (wish I could say that's a first…oops). And if I'm being perfectly honest, I'm still worshipping the glorious thing that is pure, unadulterated, beautiful white paint. More specifically, the kind of white paint one uses to spray the $%@# out of your dingy, dark, dirty basement laundry room.
Of course, no explanation of my love for white paint is going to be just without proof of it's capabilities. As proof, here are some before pictures of the laundry room in my basement. If you can recall from when we began finishing the basement, the space was divided into two areas: the finished living area (+bathroom), and the roughly finished laundry/utility/storage area (below).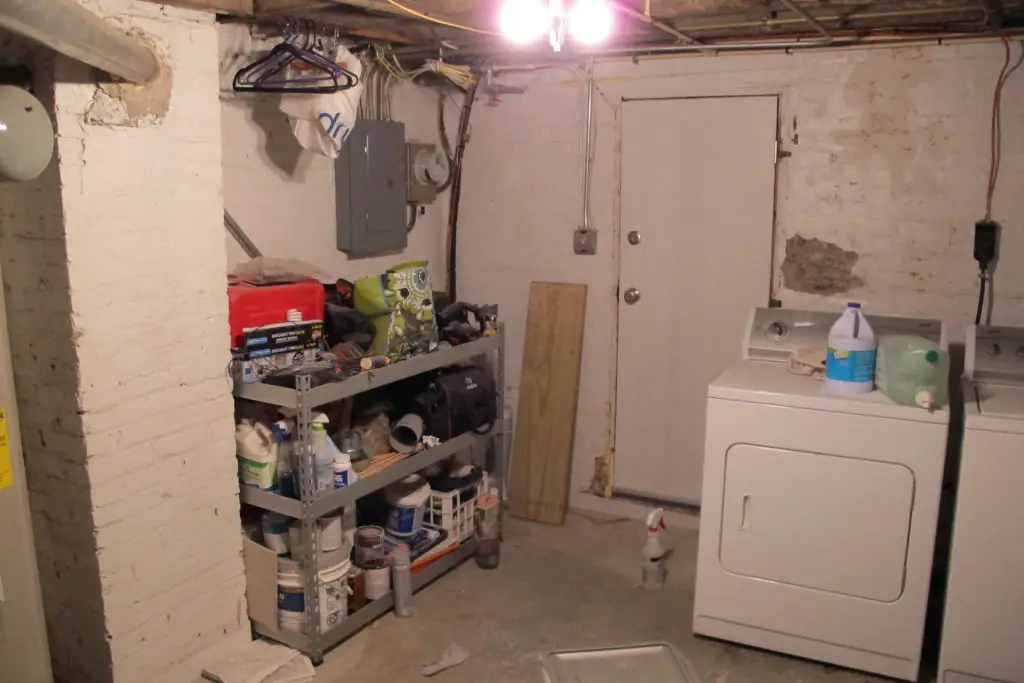 No detailed explanation needed. The space was dark and dirty.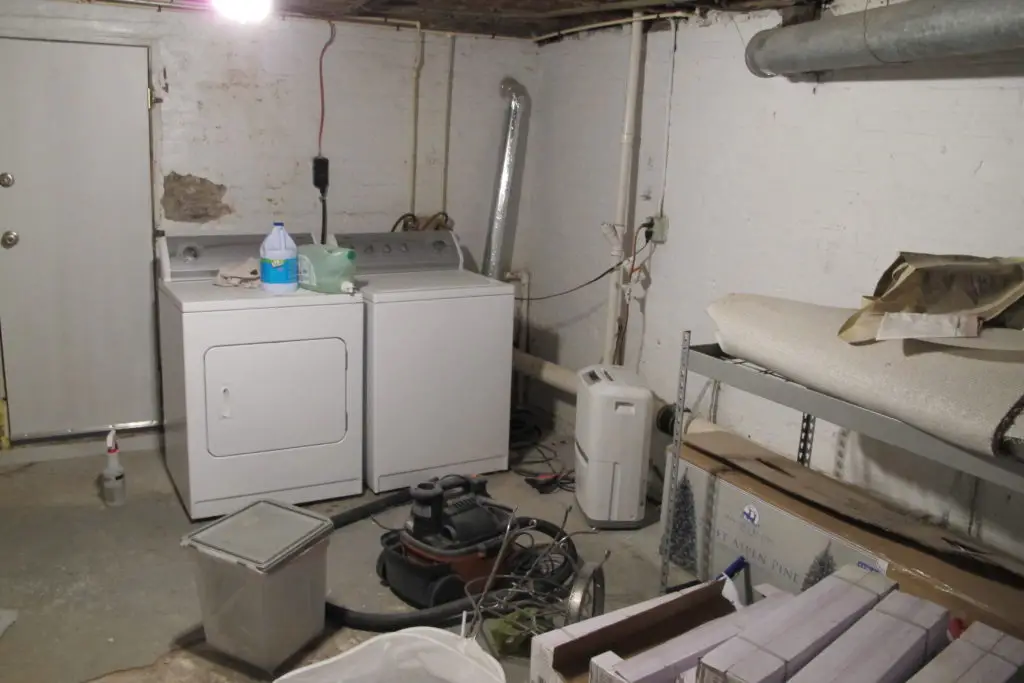 We went back and forth as to what color we would paint the ceiling. I was initially set on doing a gray or a dark tan, simply for more security against the century of stains on the old wood. But after factoring all the pipes, wires, and other lines that were throughout the basement, it made the most sense to make everything white, in hopes of camouflaging as much as possible.
I am well aware that there are cheaper primers out there that we could have used. But after seeing the transformation on the other side of the basement, and knowing how well the Sherwin Williams Fast Drying Primer worked, I didn't want to take any chances on a new product.
As painful as it is to admit – we used nearly 5 gallons of primer on the ceiling. I grossly underestimated how much paint we would need. I'm pretty sure our misstep was that we were relying too much on the sprayer. Because the beams are not smooth, the sprayer was unable to get even coverage. Even after two solid coats, there were 5-o'clock shadows everywhere. It just didn't look finished like it did on the other side of the basement. So we went back and touched up spots with a roller.
Rolling on the paint made a huge difference. The roller pad was able to squish the paint into all the little crevices and help smooth out the surface. Finally, it made sense as to why Marvin and his crew had painstakingly brushed and rolled on the primer on the other side of the basement and then sprayed the final coat on.
So my advice is this: roll and brush the first coat of paint/primer on, and then use the sprayer for the final coat and hard to reach areas. It sounds more labor-intensive, but I definitely think it would have saved us time (and money!) in the long run.