After a couple of winters and rainy seasons, our DIY modern patio table started to show some wear. We restored it to its original beauty and added some furniture wax to help it withstand the elements.
DISCLAIMER: This post contains ads and affiliate links. At no additional cost to you, we may receive a commission for purchases made through these links and ads.
A few years ago, during the first spring in our new home, I built a modern patio table for use under our pergola. I had planned on storing it in our garage over the winters, but for whatever reason, that never happened. And after a couple of years, it was showing some wear…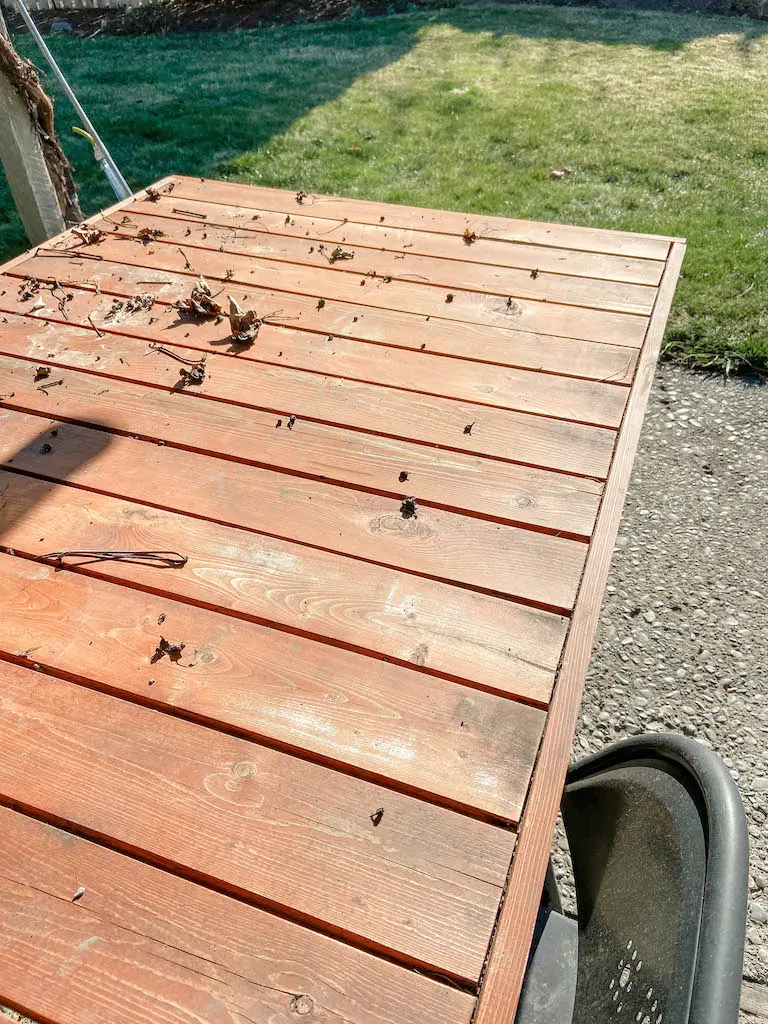 With bleached spots, dark stains, and some warped boards, it was no longer the modern patio table I had once sought after. But I didn't want to let the time and energy it took to build the table go to waste. So I decided I would try to refinish it. Our first step in refinishing the table was power washing the surface. I would have been OK with just hitting the dirty areas, but Eric went for full power and stripped most of the finish.
On the plus side, he removed most of the stain. On the downside, it left some visible pressure marks and ate away at the legs quite a bit. But since I was planning on sanding everything anyways, I wasn't too worried.
After letting the table dry out for a few days in the heat, Eric sanded everything down to a smooth, even finish. I only have a progress picture of the bottom – which hopefully gives you somewhat of an idea of the difference sanding made. (Don't pay too much attention to the bottom of the slats, they hardly had stain on them to begin with so we didn't fuss with them much during the refinishing).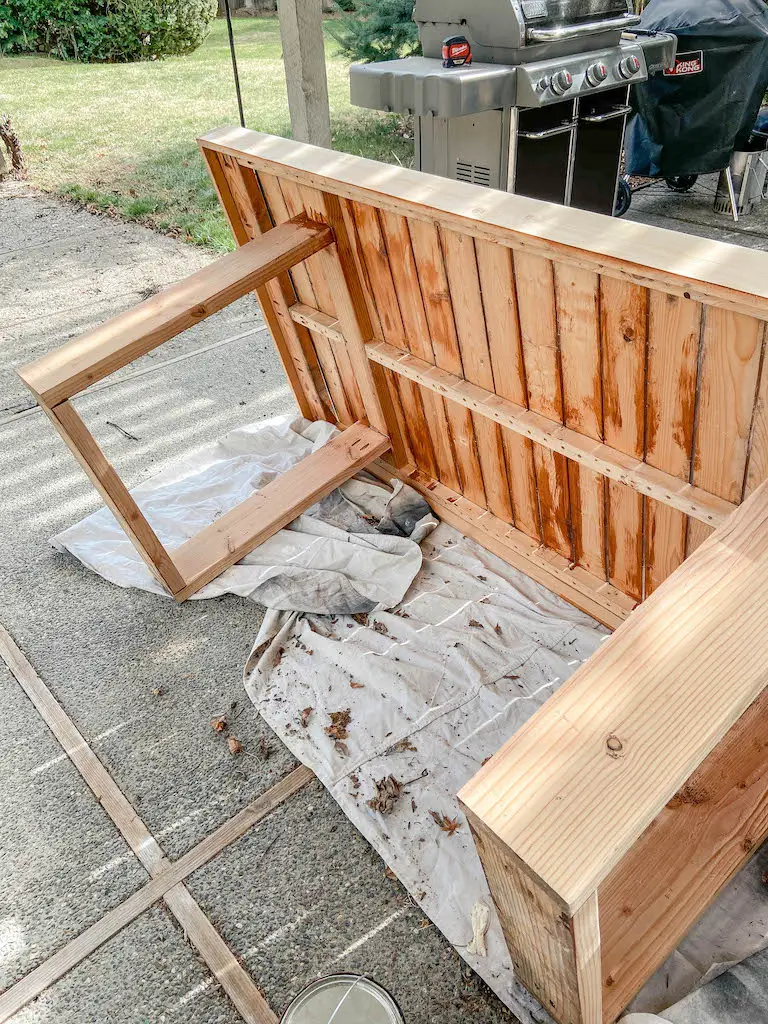 After the surfaces were sanded, I applied a coat of Cabot Australian Timber Oil (the exact same way I applied it after building the table). The result was a fresh and rich hue!
I was pretty satisfied with the way our refinished table looked, but I also wanted to make sure it was better protected against the elements. Coating the table with polyurethane was never something I considered, so instead I looked to find an outdoor furniture wax. Fortunately I didn't have to search too far on Amazon, and came across a product that appeared to be just what I was looking for.
After the Cabot Oil stain was dry, I applied two coats of SunShield Wood Conditioner & Protectant. It has the consistency of thick applesauce, but it spreads very easily in warm weather. I rubbed it on with a lint-free rag in small sections. The whole process took me less than 20 minutes. I was so happy to see it adding a natural sheen to the wood. You can see the difference in the picture below, where the corner of the table did not yet have any wax.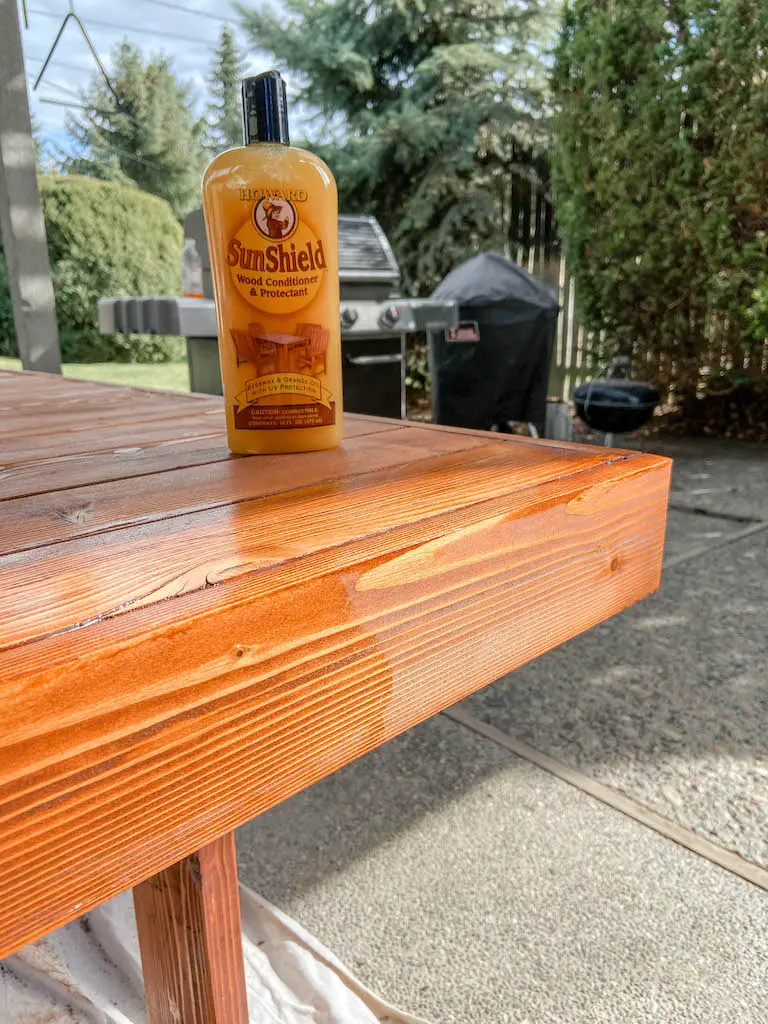 The difference is a little more subtle picture the picture below, but the seven (+/-) slats to the right have SunShield applied, whereas the other side of the table does not.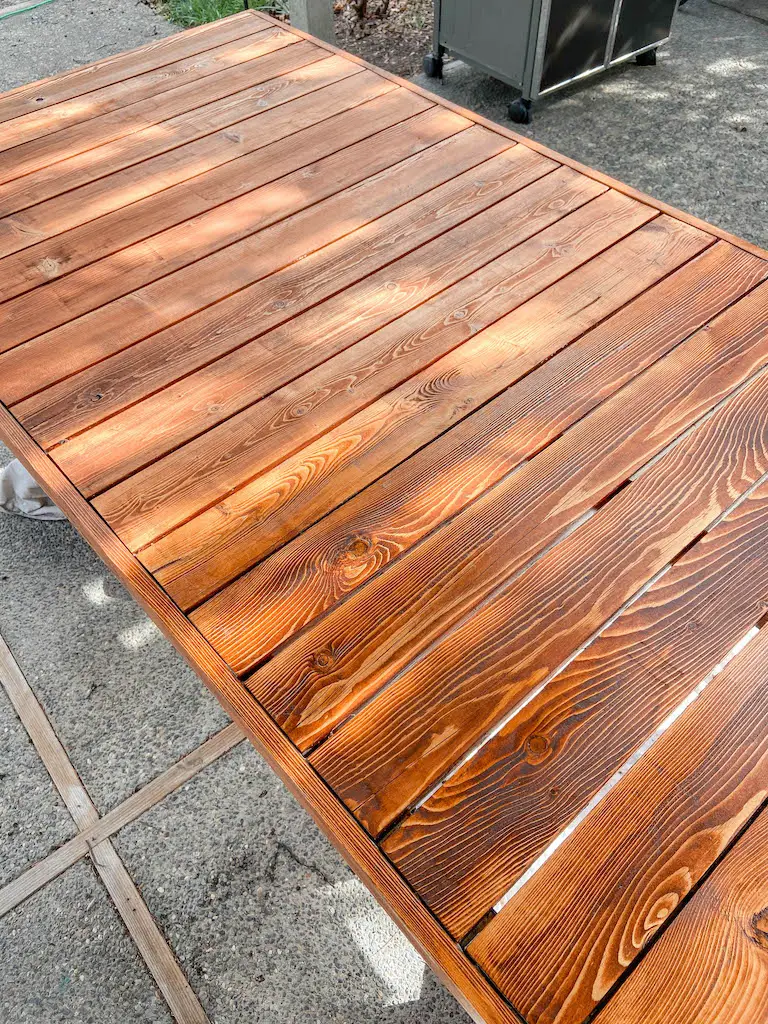 Even though it will require some upkeep, I'm glad to have found a product that I can reapply as needed, vs. having to scrape and/or sand down (such as the case with polyurethane). To help extend the life of our DIY modern patio table, I fully intend to apply at least a couple of coats of the SunShield Wood Conditioner each year. Here's hoping we can avoid needing the pressure washer + orbit sander combo in the future!
I'm genuinely curious – have you found a great (aka long lasting) product for staining and sealing DIY outdoor furniture? Am I giving outdoor polyurethane a bad rap? Please tell me about your experiences in the comments below!