How much does it cost to build a modern playhouse? Here's an estimate of what you might spend to build a DIY playhouse similar to ours.
DISCLAIMER: This post contains ads and affiliate links. At no additional cost to you, we may receive a commission for purchases made through these links and ads.
It's a question that comes up relatively often – "How much did it cost to build your playhouse?" I had the same exact question in mind as I viewed other playhouses online.
Naively, I initially thought that I could build a modern playhouse, to my liking, for less than $500. But it wasn't long before I set a new budget of twice that amount. There are definitely some cheaper options for various materials, so it is possible to build a similar playhouse for less.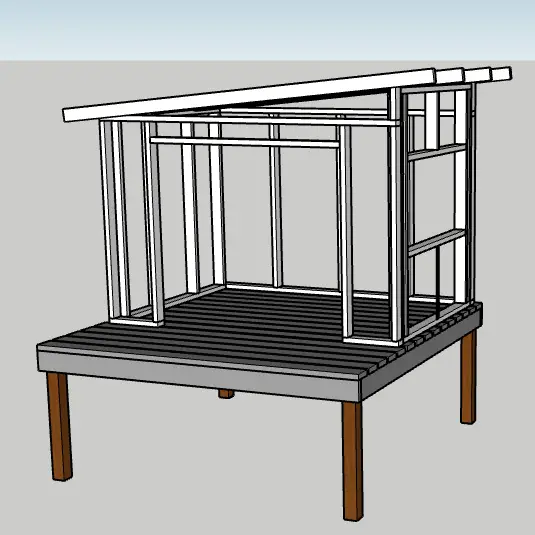 The cost breakdown below is based on online prices as of July 2021. Prices have definitely gone up since we built our playhouse a little over a year ago. Depending on where you live and the exact materials you purchase, your cost will vary. Our total cost came in right around $950 because we used some (not a lot though!) existing materials and we already owned the necessary tools. It was also built before lumber and building material prices started to skyrocket!
NOTE: The price estimates and products linked are not necessarily the exact products we used. Prices for all products and materials will vary. Also, given the scale of this project, it's definitely possible I may have missed an item or two. Please don't hesitate to comments below if you have questions!
DISCLAIMER: This post contains a description of our building process. I cannot make guarantees regarding the safety of this play structure. Before building, please consult with a professional regarding materials and weight limits.
Materials
With current prices that I could find online, the cost of materials today would be approximately $1336. This does not include a slide. Please note that I didn't exactly look for the cheapest possible prices when doing this estimate. So it's possible to bring the cost down by shopping around and using different brands. We were able to keep our cost under $1k by using some existing materials we already had. Prices were also generally cheaper at the time.
Below is a breakdown of the price of materials–
Lumber – $550 approximately
The cost of lumber has gone up substantially since we built our playhouse. I was able to get all of our lumber for less than $350 (not including siding) from a local lumber yard in April 2020. However, based on Home Depot's current prices (as of July 2021), the cost is now substantially more.
Lag Screws (5/16 x 3″) – $48 (Home Depot)
We purchased a box of lag screws which were primarily used for building the deck.
2.5″ Decking Screws – $32 (Home Depot)
Decking screws were used to secure the deck boards and a few other miscellaneous needs. 5 pounds was just enough.
Fast Setting Concrete Mix – $12 (Home Depot)
Two bags of fast setting concrete mix. 1/2 bag per post when building the deck.
2.5″ Blue-Kote Kreg Jig Screws (Amazon) – $28
We used the 250 count box and then some. So a 250 count box plus a 50 count box (both available on Amazon at the time of this post).
Oil Based Primer – $62 (Home Depot)
Oil based primer was used on the deck boards, play house frame, and siding. We purchased 3 gallons, but depending on how thick and how many coats you apply, you may be able to get away with 2 gallons.

Deck Paint – $45 (Ace Hardware)
We didn't buy actual deck paint since it's not a high-traffic area (compared to an actual deck). We used a gallon of Valspar exterior paint and so far it is holding up great!
Exterior Paint – $100 (Sherwin Williams)
Two gallons of A-100 exterior latex paint, one for the exterior and one for the interior (~$38 each if purchased during a sale). Plus 3 pints of color snap (~$8 each) for the accent stripes.
SunTuf Roof Panels – $114 (Home Depot)
We used six 26″ x 6′ SunTuf roof panels to build the roof of our playhouse.
SunTuf Wood Closure Strips – $34 (Home Depot)
We purchased 5 packs of the wood closure strips. I think we could have gotten away with just 4 packs but the strips split easily when installing so it was nice to have backup!
Wood Screws 1″ – $12 (Home Depot)
To attach the SunTuf closure strips to the roof framing.
Woodtite Fasteners 2″ – $8 (Home Depot)
To attach the SunTuf panels to the closure strips
Corner Braces – $5 (Home Depot)
Corner braces were used to attach the roof framing to the wall framing.
Exterior Wood Stain – $40 (Lowes)
The wood stain was used on the roof rafters and the railing. We had some leftover from our DIY modern patio table.
Cedar Fence Board Siding – $140 (Home Depot)
There are different grades of cedar fence boards. The ones we used were purchased at a local lumber yard and were one up from "ranch grade" (rough but still paintable). I purchased approximately 35 and may have had an extra or two at the end.
Finishing Nails – $9 (Amazon)
Finishing nails were used to install the cedar siding to the 2×4 frame.

Bubble Window – $26 (Amazon)
We currently only have one bubble window and I'd love to add another. The cost for one is $26, or if you want two, you can get a set for $42. The product link is the exact item we purchased and it's holding up well!
Steering Wheel – $20 (Amazon)
Our son loves the steering wheel. It might just be one of his favorite parts of the playhouse.
Slide – Prices Vary (Amazon)
The slide I wanted to get was suddenly unavailable when the lockdowns occurred. And it's really not easy to find a slide for a 3′ deck (most are for 4′ decks). The slide we currently have on the playhouse was a freebie off of Craigslist and would be better suited for a higher deck, but still works very well!
Exterior Lights – $34 (Costco) or $57 (Amazon)
The Amazon product linked appear to be very similar to the lights we purchased from Costco. My only complaint is that they really don't turn on until it is very dark outside.
Painting Supplies – $17 (Amazon)
Rollers, brushes, painters tape, and trays.
Total Cost of Materials – $1336*
*Not including the price of a slide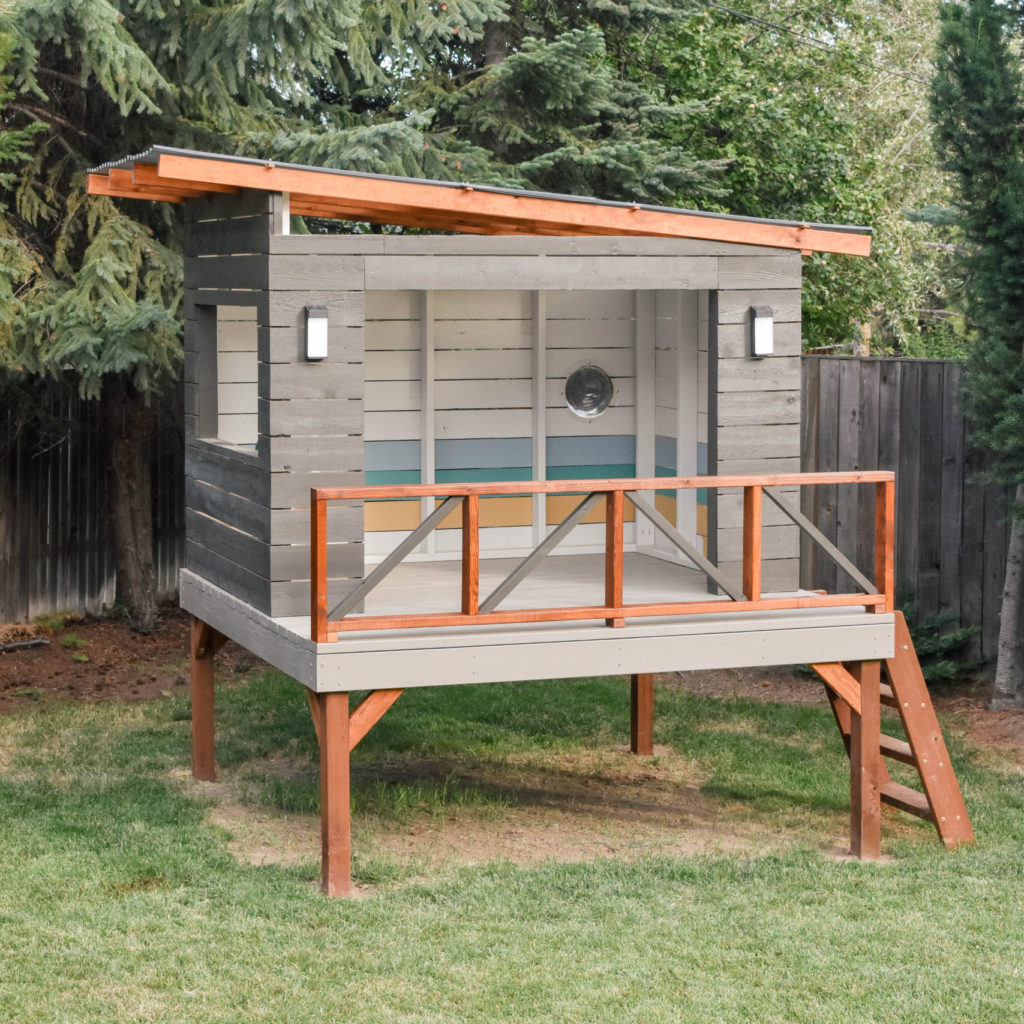 Tools
We already had the necessary tools to build our modern playhouse. Below is a list of the tools we used, as well as links to similar products–
Chalk Reel – $6 (Amazon)
A chalk reel was used to line up the screws when building the deck.
Shovel – Prices vary, starting at ~$9 (Home Depot)
A rounded shovel to dig holes for the deck posts. Nothing fancy!
Tape Measurer – $24 (Amazon)
I have the 35′ version of this tape measurer and I love it!
4′ Level – Prices vary, starting at ~$10 (Home Depot)
Again – nothing fancy needed.
We have been very happy with our Dewalt miter saw!
Carpentry Square – $13 (Amazon)

Impact Drill and Cordless Drill – $189 (Amazon)
This kit on Amazon is very similar to what we purchased several years ago and comes with the charging station.
Drill Bits – $26 (Amazon)
We used various sizes of drill bits for pilot holes.
Kreg Jig -$89 (Amazon)
Very essential for this project. I love my Kreg Jig and can't remember what it's like to build without one!
Jig Saw – $70 (Amazon)
The jig saw was used to make more detailed cuts in the siding around obstacles.
Finishing Nailer – $70 (Amazon)
Used to install the siding.
Air Compressor – $279 (Home Depot)
For use with the finishing nailer.