Our nursery was designed to not only be gender-neutral but also a space that mom and dad would enjoy. What better way to do this than use our Maui honeymoon as inspiration?!
DISCLAIMER: This post contains ads and affiliate links. At no additional cost to you, we may receive a commission for purchases made through these links and ads.
Spoiler alert…we're parents! I hope that helps to explain my extended absence from blogging. I figured I'd take a little break from the living room remodel updates to reveal our son's nursery.
To give you a little background info – we were "team green" and didn't know if we were having a boy or girl until he arrived. That being said – I had the challenge of creating a gender-neutral nursery. To be perfectly clear – I love this type of challenge! To add to the challenge, I also set out to create a room that he could grow into. And for as much time as I knew that we would be spending in there, I wanted to make it a place we could also enjoy.

For starters, I wanted the room to be bright and inviting. Before installing the new carpet, we painted the ceiling and walls. Three of the walls are White Dove by Benjamin Moore, and the accent wall is Americana Egg by Magnolia Home. The oak trim was replaced with simple, modular white trim (painted Simply White by BM).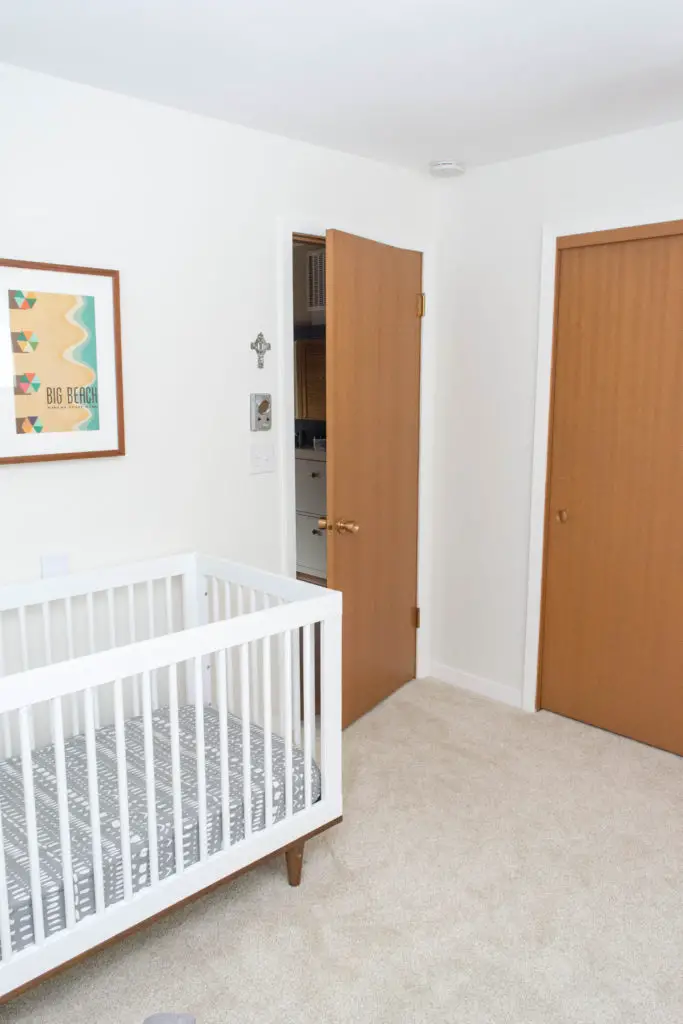 I decided not to paint the wood doors and frames. And I'm still so happy with that decision. As much as I wanted to change out all the doors when we moved in, I really think they are an ode to our home's mid century style. For me, the new trim modernized the room more than any painted door could have.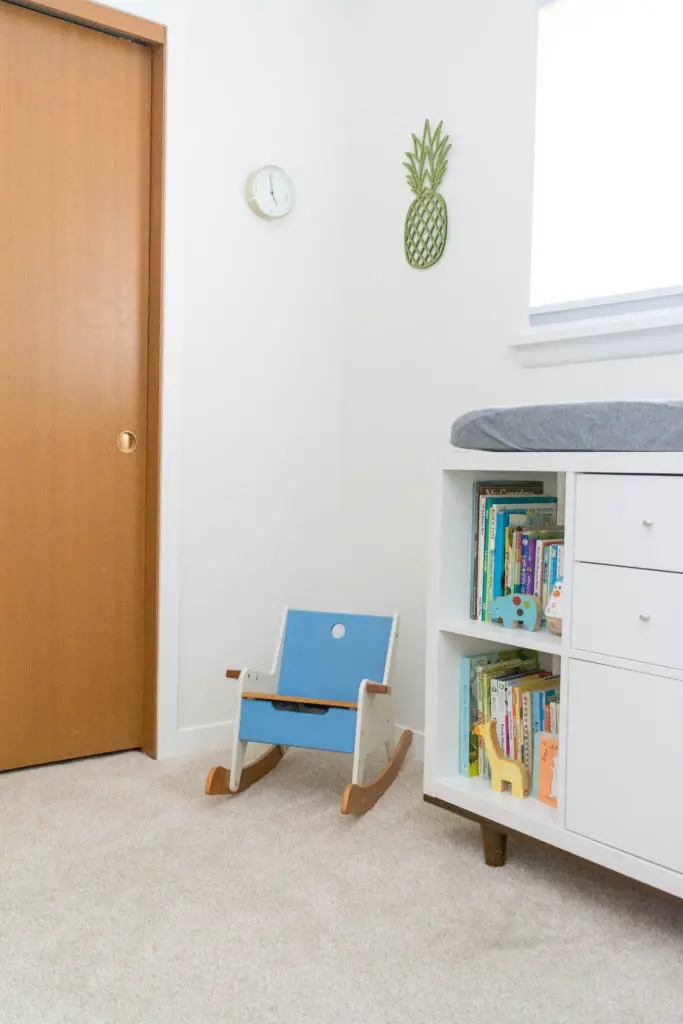 The room isn't very big, so we kept the amount of furniture to a minimum. We also stuck with simple pieces, like a customized Ikea Kallax shelving unit that is used as a changing table.
One of my favorite additions to the room came a few months after E was born. While thrift store shopping in Edmonds, I came across the most amazing little rocking chair for $5!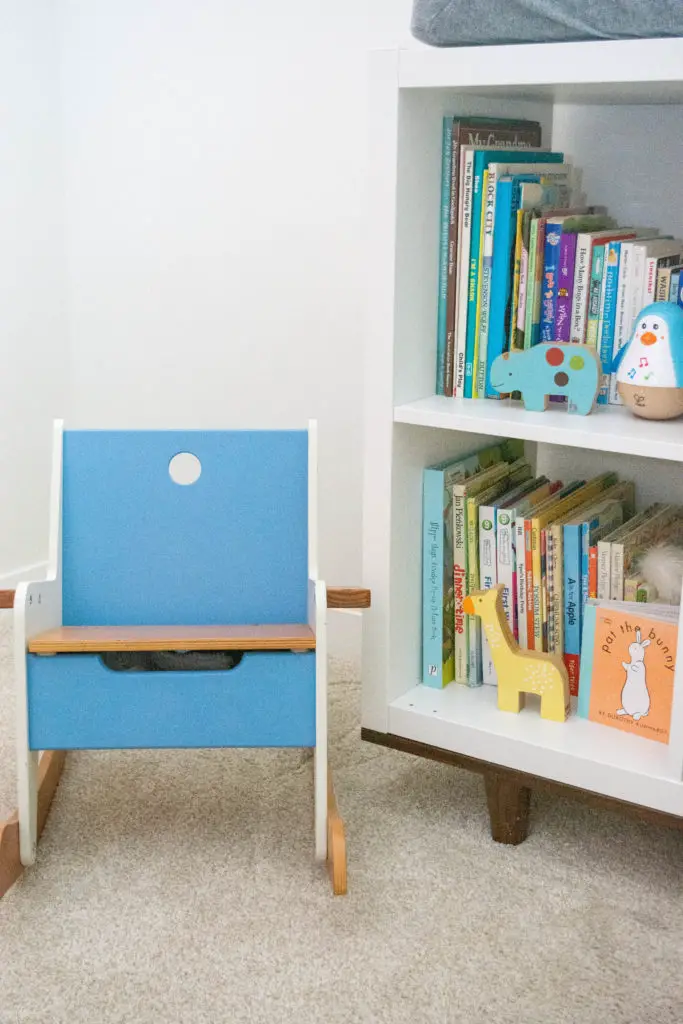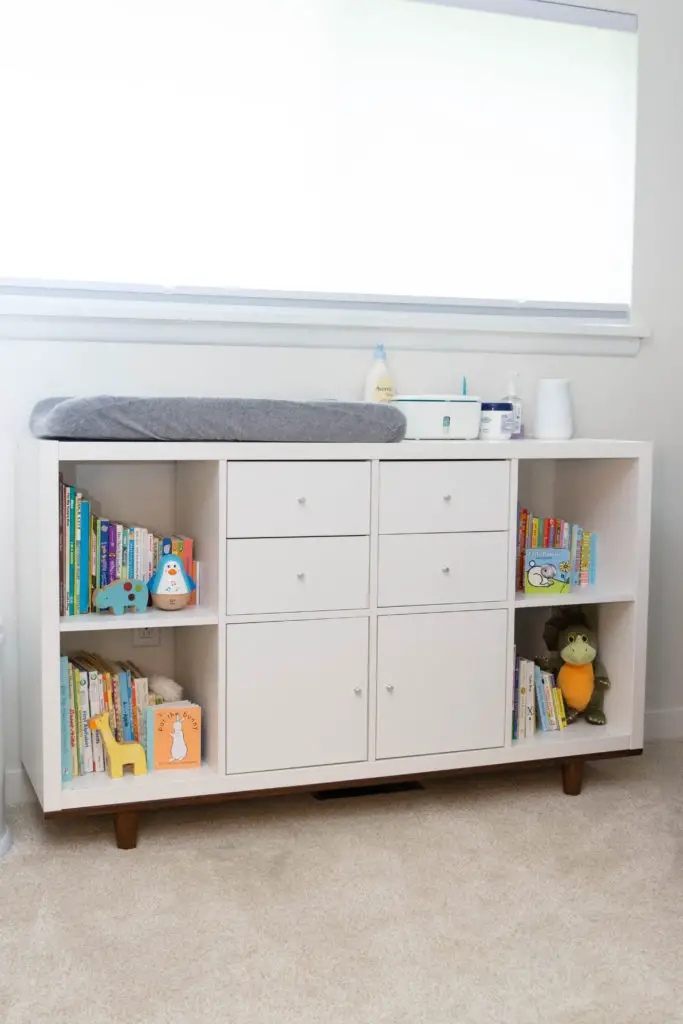 The most functional piece in the room is easily our customized Ikea Kallax unit (changing table, book shelf, diaper and linen storage to name a few). It's also conveniently located within an arms reach of the rocking chair. Not just any rocking chair though – one of my friends has dubbed our rocking chair as "The Princess Chair."
So about this "princess chair"…If you are wondering if you should splurge on anything in a nursery, the answer is YES! Buy yourself an amazing rocking chair! This particular one is the Kiwi Glider by Babyletto. It not only reclines but it also swivels. But wait! There's more! The recline feature is electronic and super quiet (no waking baby as you try to get up) and there is a USB port. It's also very comfortable and suitable for Eric who is 6'2.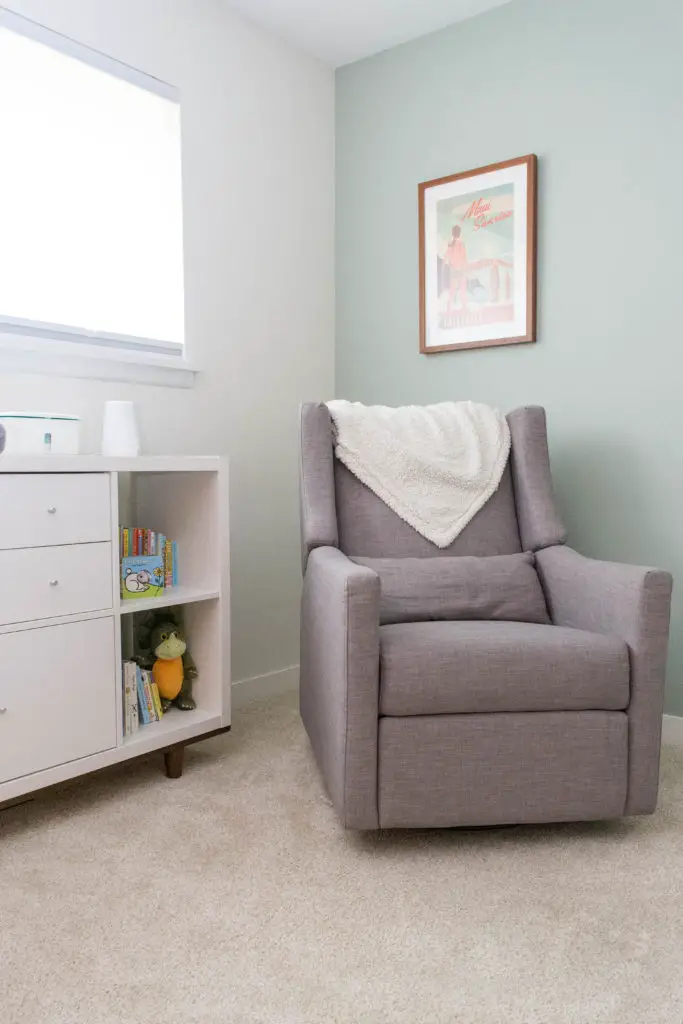 Another very functional item in E's nursery is the blinds. They are a combination of blackout shades and light filtering shades from selectblinds.com. They are cordless and can be arranged in any combination of fully open, light-filtering, and blackout (left to right, below).
Functionality aside – no nursery would be complete without a crib. The IKEA changing table hack was initially done to match the BabyMod crib we purchased. I snagged it for $199 at the time and so far it has held up great. I even bought the toddler bed conversion rail (just in case the product is later discontinued).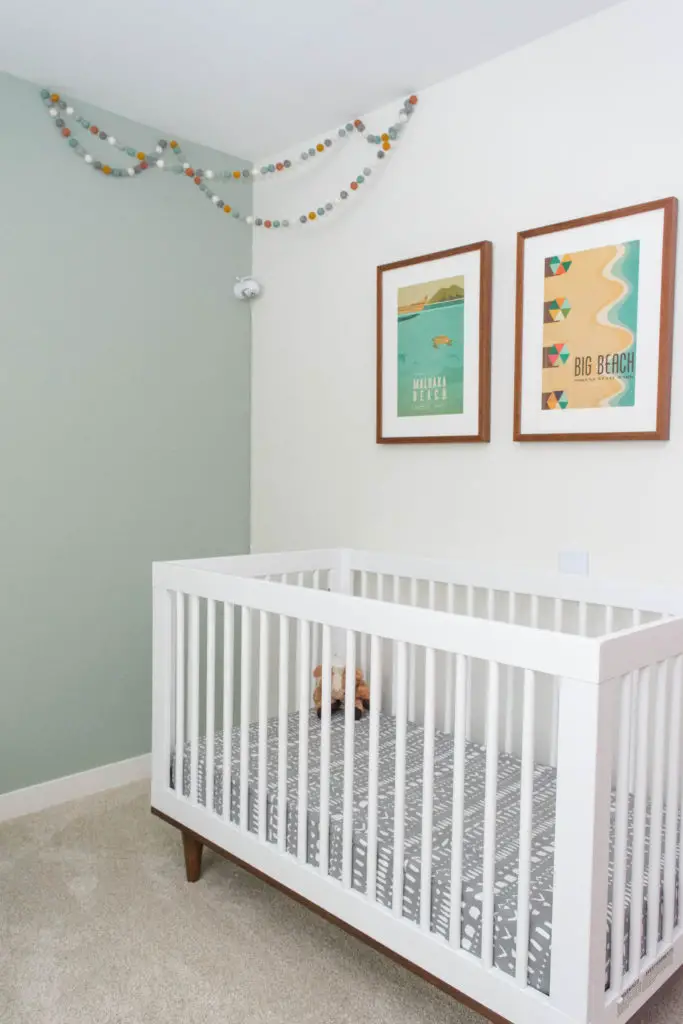 When it came to adding personal touches and decor to the room, I didn't have to search very long. A quick search on Etsy.com lead me to some amazing retro Maui prints. I couldn't hit the "buy" button fast enough! Maui was the setting of our honeymoon and each of the prints reflects somewhere we visited on the island. They were the initial inspiration for the room and some of my all-time favorite artwork.
The Maui prints inspired other details in the room including the pineapple cutout and felt pompom garland. And last but not least, what Maui-themed nursery is complete without a stuffed animal cow?!
We love the way E's room turned out and I can only hope that he grows to enjoy it as much as we do!