Our basement remodel was an investment of time and money. But the outcome was worth it and more! We now have a bright and clean, yet cozy and comfortable space that adds to our home in so many ways.
DISCLAIMER: This post contains ads and affiliate links. At no additional cost to you, we may receive a commission for purchases made through these links and ads.
The truth is, we've been so busy enjoying our new basement space (and planning a wedding and other 'minor' things like that), that it's been more than a year and I'm just now getting around to showing you all the finished product!
First, let's have a quick reminder of what our basement looked like before the remodel: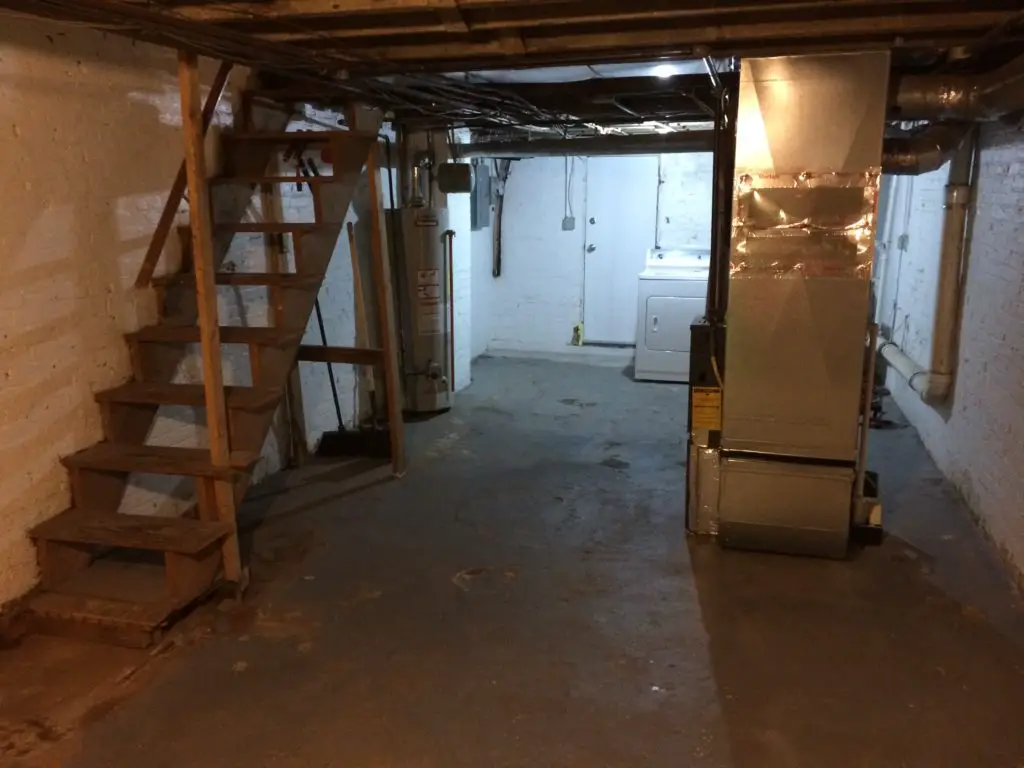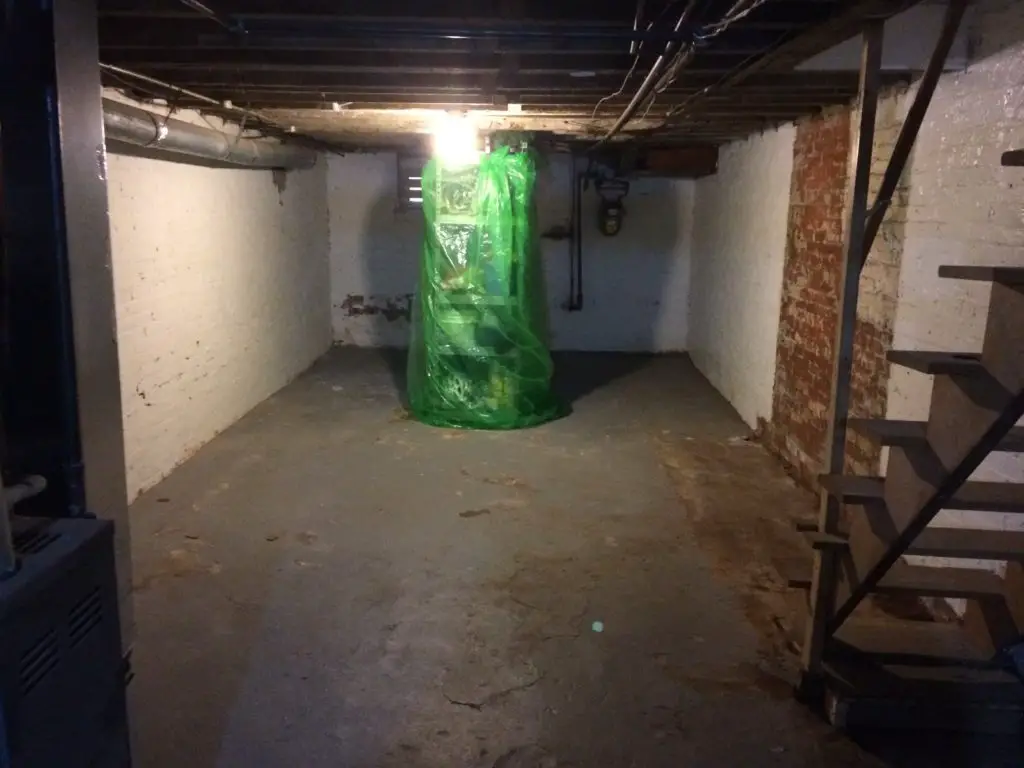 Scary, right?! Like how on earth could that possibly become a usable space? Let alone an inviting space? But it happened, and I have proof!
The basement is entered via a narrow stairwell off of the kitchen. There was limited space for lighting and I opted for directional lighting on the wall vs. flush mount lighting overhead. The San Francisco prints were picked up at a thrift store and ($1 each!) and spruced up with some nice new frames.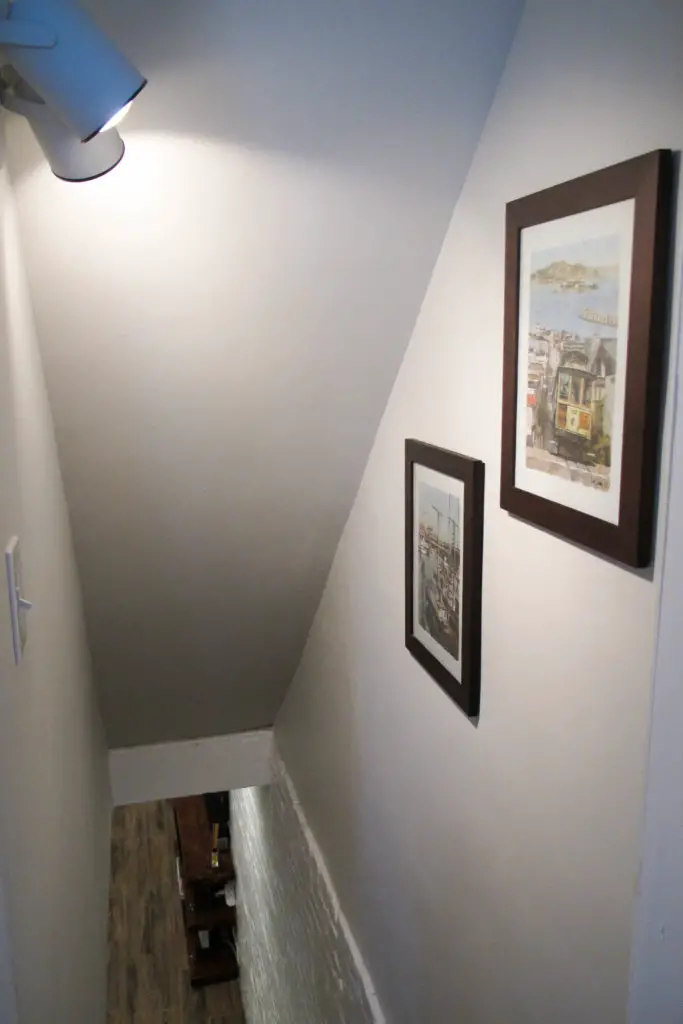 At the bottom of the stairs, you are greeted by some amazing faux wood ceramic tiles.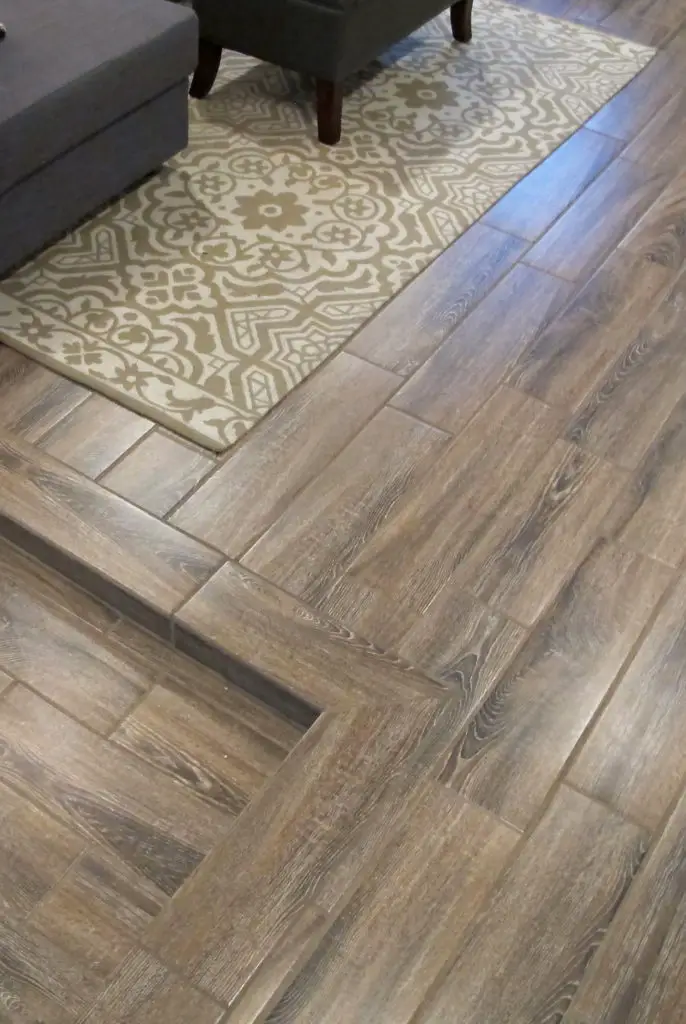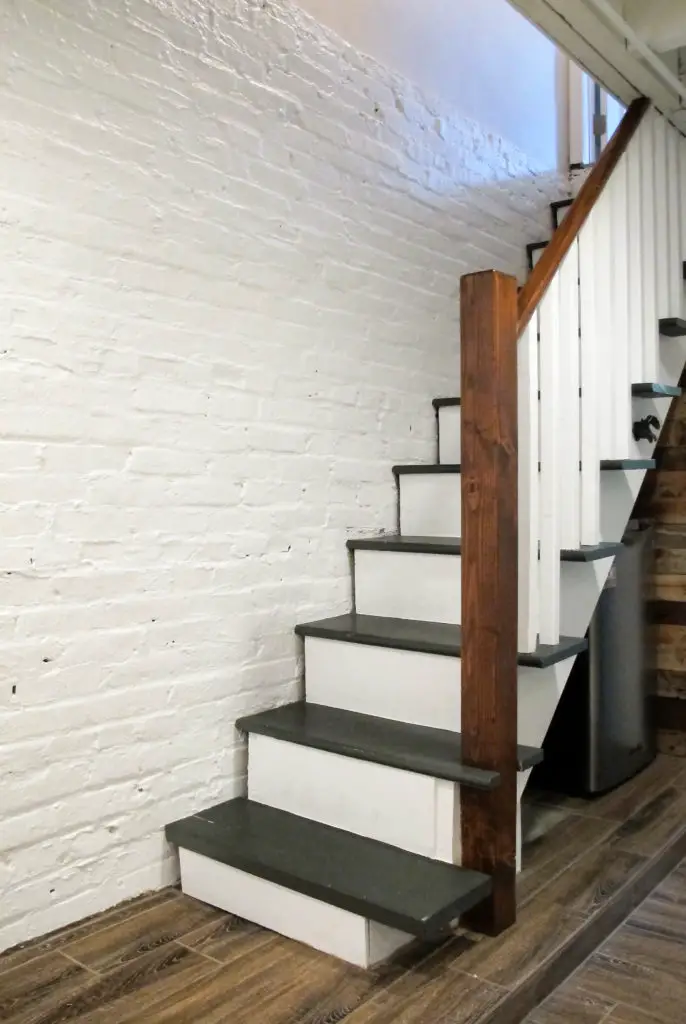 The basement has a mix of old and new. The faux wood tile floors are obviously new, but the stairs and exposed-floor-joist ceiling are original and were mostly spruced up with paint.
The tiny feature wall under our stairs was done with leftover pallets from our laundry room accent wall project.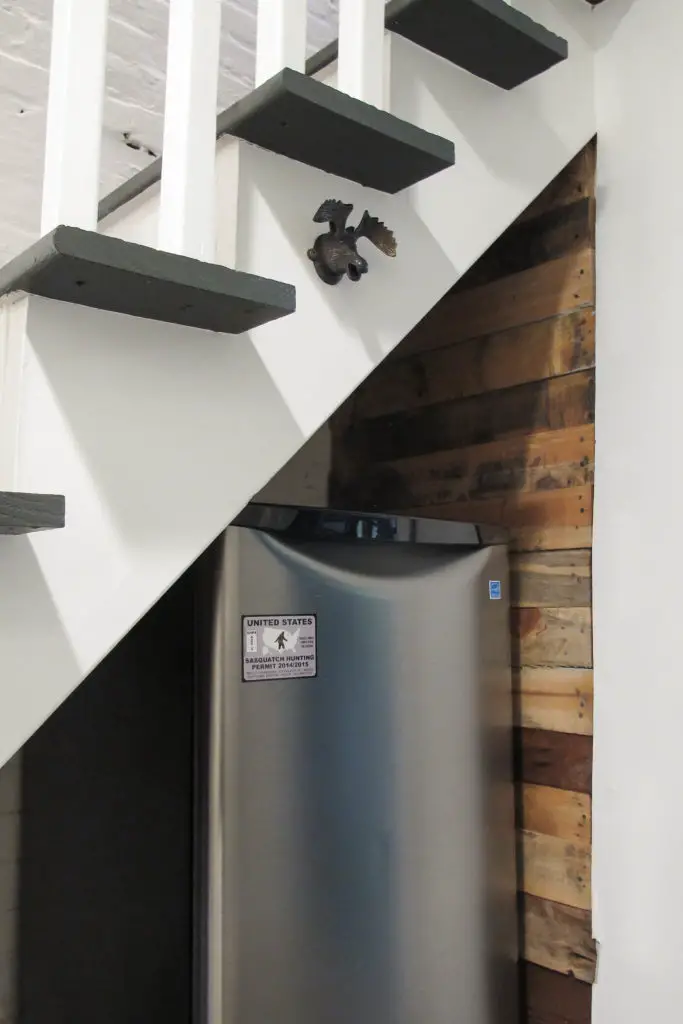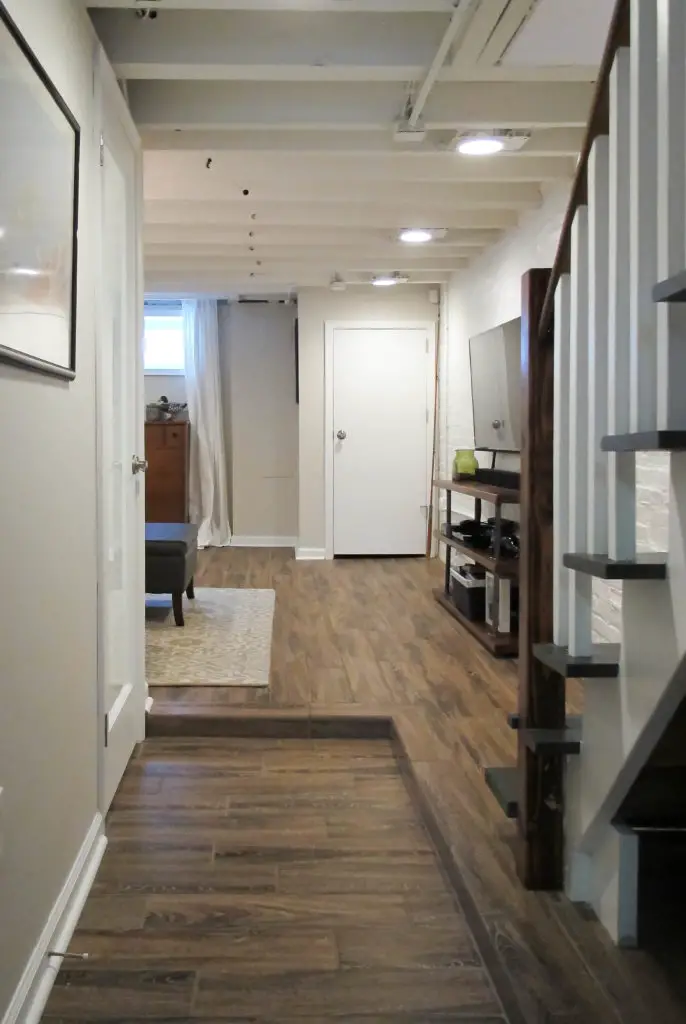 A major addition to the basement was a bathroom. Some may think it was a risky move, but I decided to install a privacy glass door. While it's not an actual window, it helps to make the overall space feel more open (vs. a solid white door). At the end of the hallway (above) is our semi-finished laundry room.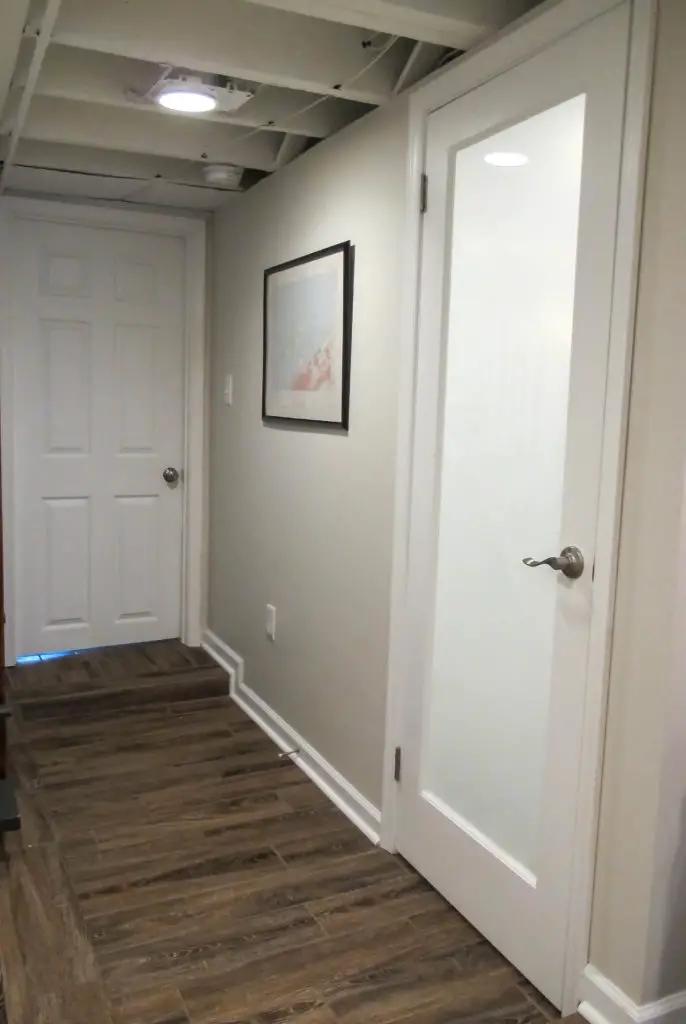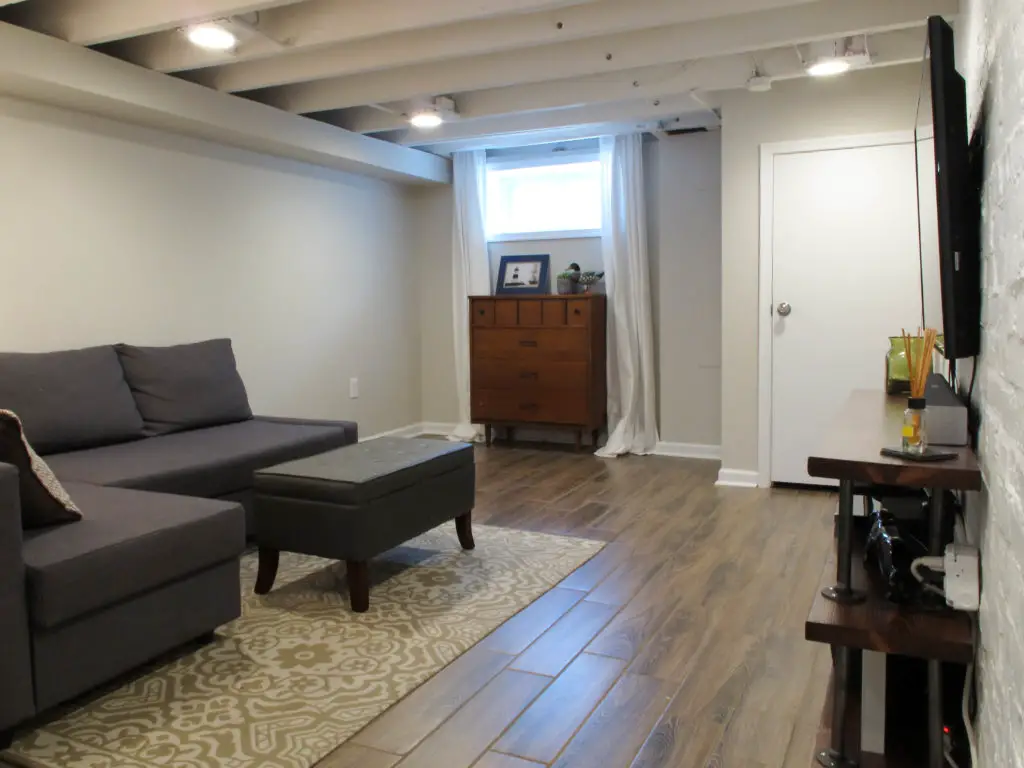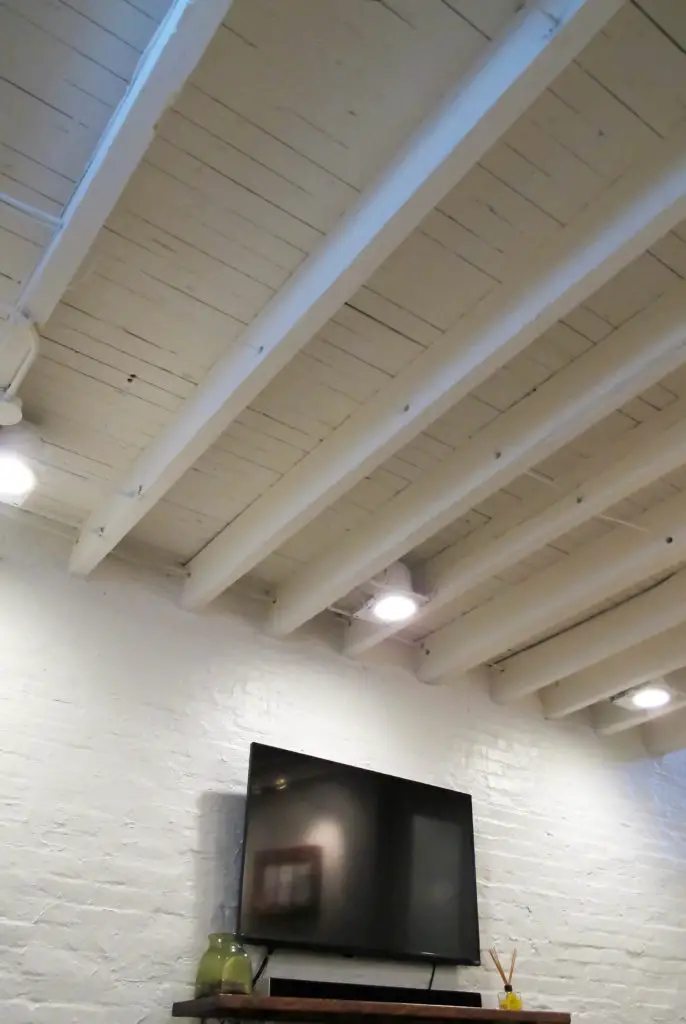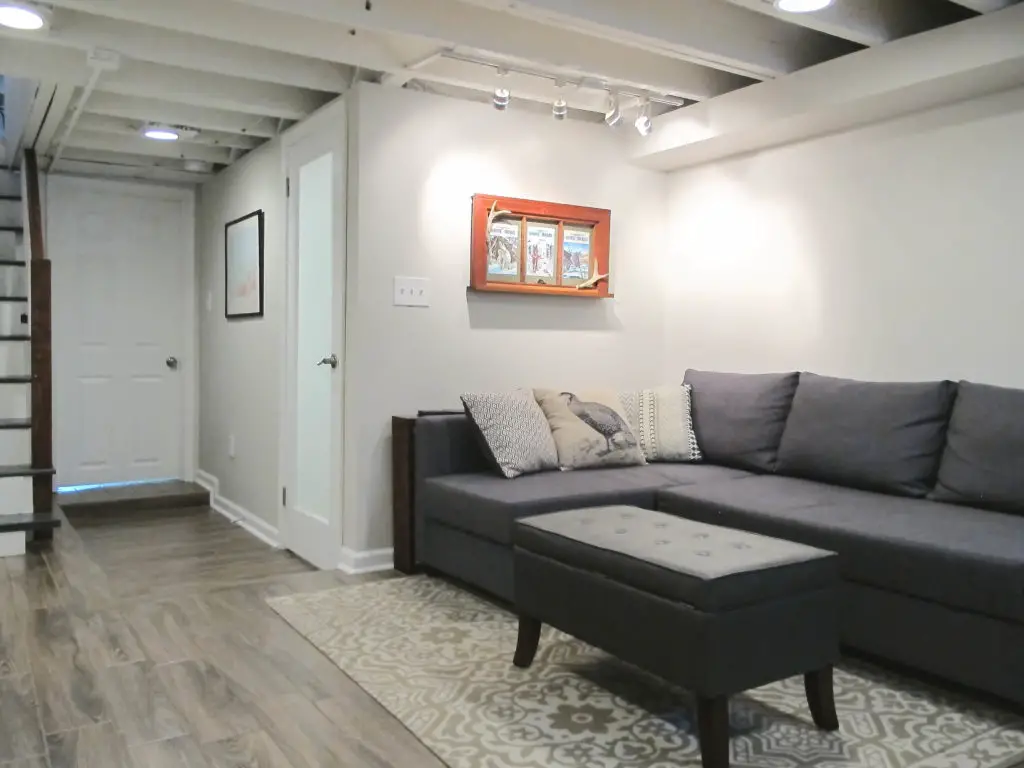 Many of the decorative pieces were items we had lying around or in storage. We bought a few new pieces of furniture but also built some media shelves (for the TV) and a sofa table that is tucked in between the wall.
Needless to say, but we are so happy with the final result of our basement renovation. It was a large project to take on, but we are definitely glad we did it. We get a lot of use out of the space and it has certainly added value to our home.
Every now and then we will be hanging out in the basement, and one of us will stop to remind the other one what the space used to look like…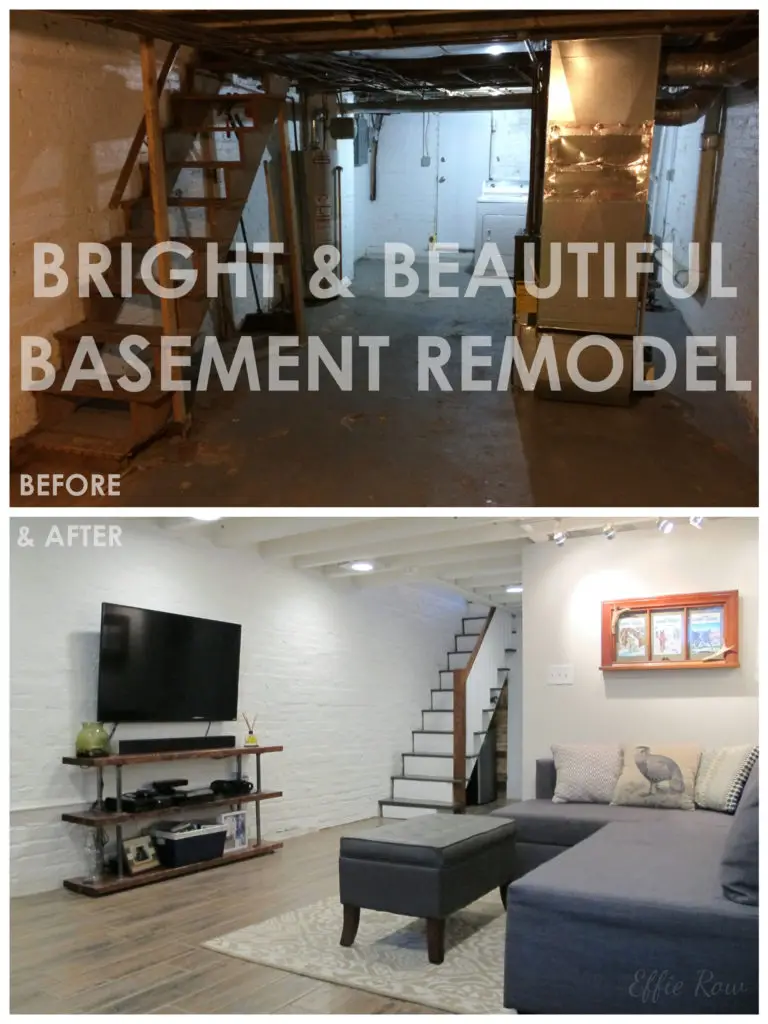 Tile: GBI Tile & Stone, Inc. from Lowes
Grout: MAPEI sanded grout in 'Mocha' from Lowes
Walls: Pale Oak by Benjamin Moore
Brick Wall & Trim: Super White by Benjamin Moore
Ceiling: Sherwin Williams 'Fast Drying Primer'
Couch: Ikea
Decor Pillows: Target
Storage Ottoman: Target
Area Rug: Target
LINKS TO ALL POSTS IN THIS BASEMENT SERIES: